We sent our field reporter (We sound like TMZ don't we?!) to an exclusive Mother's Day event in Illovo yesterday. Carmel Fisher was host and the likes of Jonathan Boynton-Lee and Pearl Thusi were in attendance. Let's see what went down. 
It's no easy feat being a mother. Of course it's worth remembering that without us- the kids- there would be no mothers at all! However, we spent all of Sunday honouring our beautiful mothers in our own special ways.
I had the absolute pleasure and delight of taking my mom out to the lovely Celebrity Cherubs Garden Party which was held to support the Prince Alice Adoption Home. The weather played its part and we were hosted by the stunning Carmel fisher at La Vie en Rose in Illovo. 
There's no better way to say "Thank you for being my mommy" than to spoil her and to treat her to a day of pampering and TLC.
The organisers who put this lovely morning and afternoon together clearly knew what they were doing too. The venue was perfect and yummy food platters were consistent throughout the day. Of course food came second to the treatment, and on Mother's day we expect nothing but the finest pampering and lathering.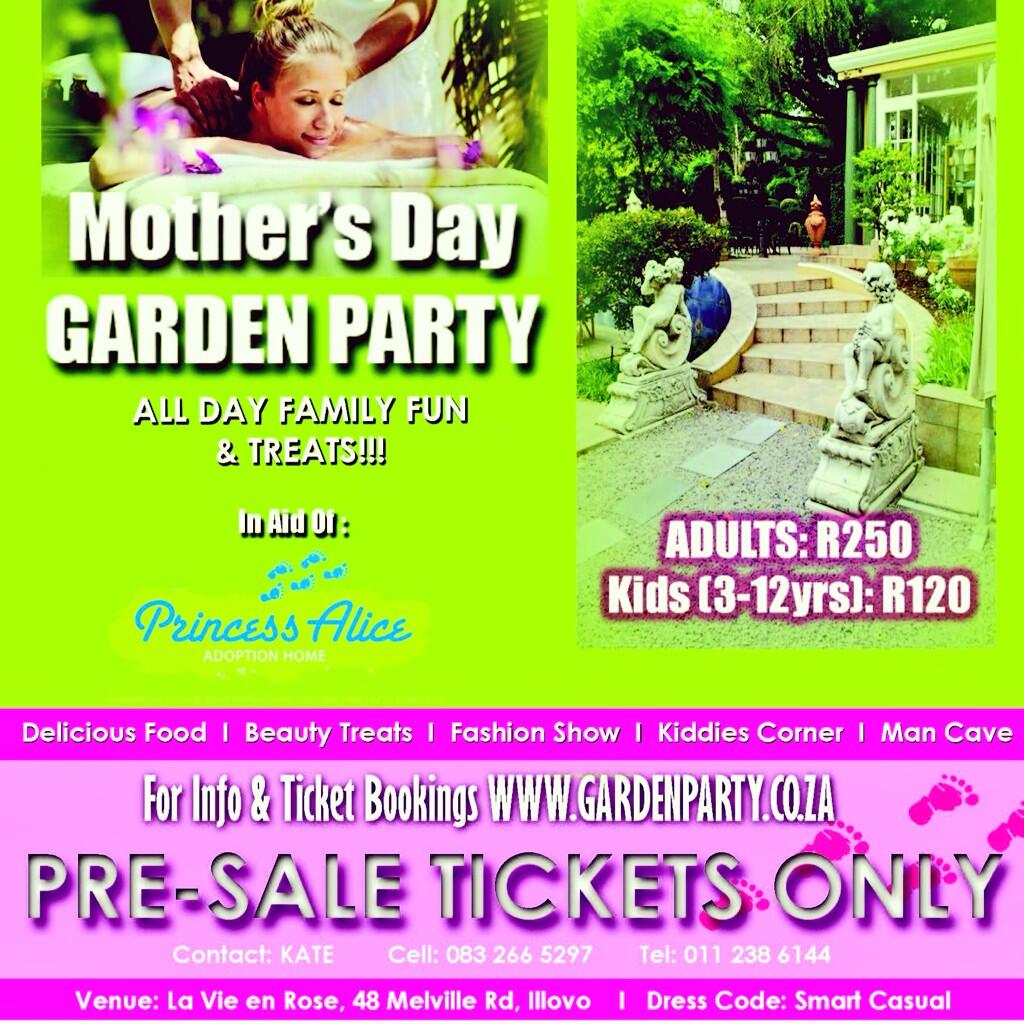 Ladies were spoiled by the selection of Nail bars and massage stations as well as the very important kiddie's corner; that way mum need not worry about her little one(s) while soaking in relaxation. There was a treat for the dads who did decide to join in the fun too. A man cave was designated to the fellas, kitted out with beer, sports and games at the ready.
 The ambiance of the event made the afternoon one to be remembered as all the guests were in good spirits and we were able to honour our mothers in the most special ways. 
The fashion show was an enthralling and fabulous experience, while the mini talent show (Held for and participated in by the kids) was a kind reminder why several of the ladies in attendance chose to be mothers. The main song of the day was Happy by Pharrell Williams and it set the tone perfectly.
The handsome Jonathan Boynton-Lee who hosts Top Billing was also in attendance on the day and he shared his touching story. He was adopted from the Princess Alice home and has a close attachment to this awesome charity. His short speech was heartfelt and moving –  tears were shared both by the audience and Jon himself- and he left us with these wise words: 
"if at first you don't succeed, try it again the way your mom told you to."
Carmel Fisher too deserves mention for her role in creating an amazing event for moms. I personally am looking forward to what she has in store for us next year. 
Thats it from me, until next time, xoxo
@senate28