Yay! Our prayers have been answered. Siphiwe Tshabalala has finally shared a picture of his baby. Yes, this time you can actually see the cute baby boy's face. Siphiwe and Bokang, who have to be hailed as one of Mzansi's cutest celebrity couples right now, shared the exciting news of the birth of their baby boy earlier this month. 
The first time we saw a picture of baby Owami was when his parents teased us - Siphiwe shared a pic of the baby's hand while his baby mama Bokang Montjane posted a picture of his foot.
Bokang captioned the pic: "6 February 2015... Our lives changed forever." Although we were excited about the pics, we were all secretly wishing that we'd finally get to see baby Owethu face.
Siphiwe has put us out of our misery. He recently shared a cute picture of his son on Instagram and captioned it: "2 months today." Two things came to my mind when I saw this... number one was: How fast is time flying?! Seriously, it's already been two months since this baby's birth? The second was obviously AWWW... how can you look at this face and not think that?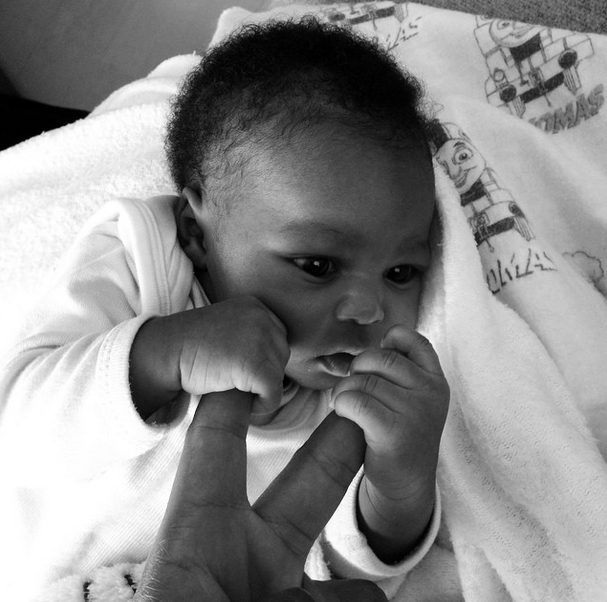 How adorable is this baby though? Yho! Siphiwe's fans also agree. One fan wrote on Instagram: "Finally!!! What a cute nunus." While another one said: "Cute cute.... ncoooooh."
Bokang also posted a comment. She wrote: "#TheAirWeBreathe #SmileKeeper."
Is it just me or do celebrities only ever have cute babies? Little Owethu is going to be a heartbreaker one day with these gorgeous looks. Another big congratulations to Siphiwe and Bokang and we wish Owethu the best of health. 
Now, when is the wedding guys?