Sidwell 'Psyfo' Ngwenya
is distraught after being a victim of a death hoax. The presenter has slammed a Facebook user who chased 'clout' by falsely announcing his
death.
Read more:
"I'm Not Well... I Faint Most Of The Time"

With so much going on in the country and people losing their loved ones, some people still find it necessary to joke about someone's death.
Media personality Psyfo
is the latest celebrity to have been announced as dead when they are in actual fact alive and well.
Taking to social media, Psyfo slammed the Facebook user Siyabulela Spetsnaz Skey, who quickly deleted his Facebook post where he wrote "RIP" and shared an old picture of Psyfo.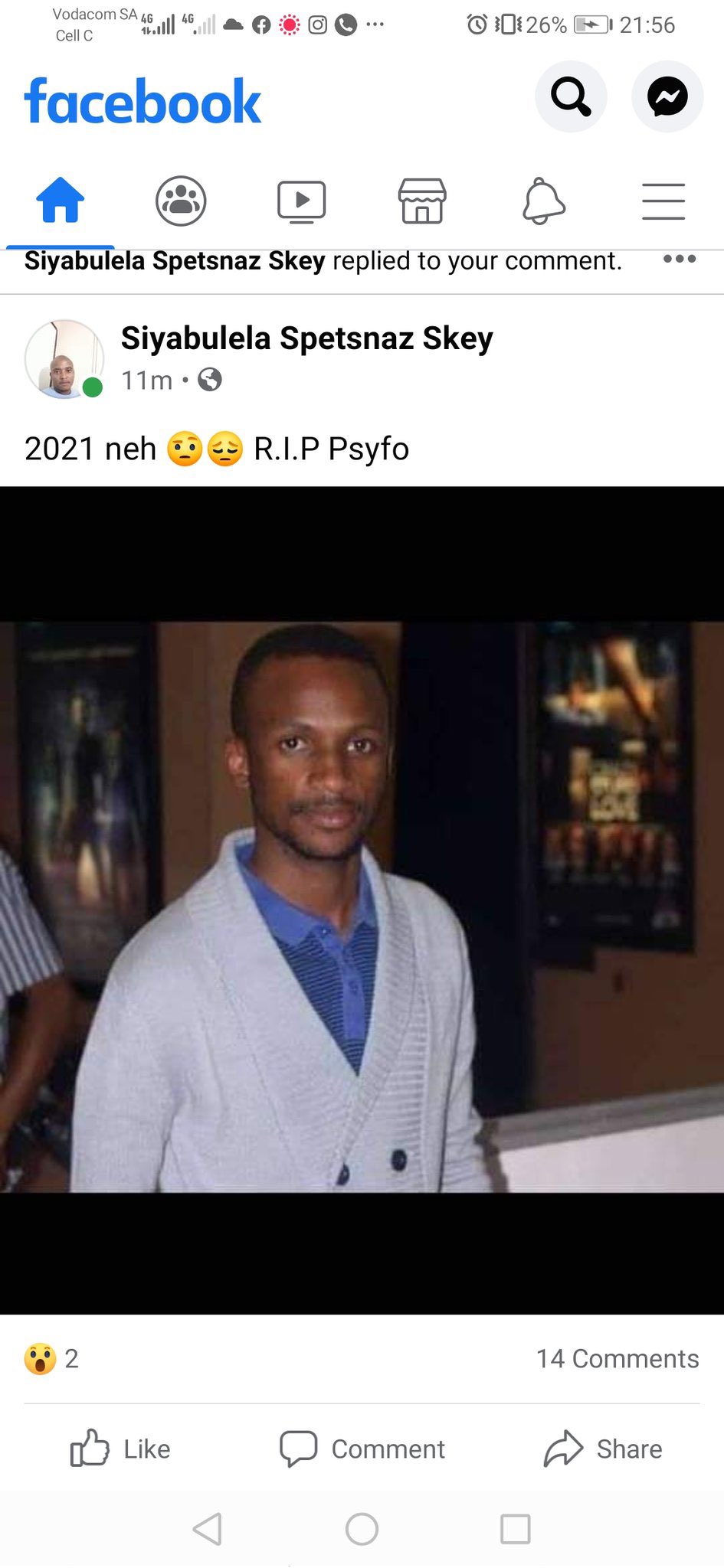 He said these types of stupid jokes are detrimental to a person's mental health and they need to stop.
"I thought I should ignore this but then again I thought there is something very deep and sad that needs to be highlighted about social media and it's impact on depression and anxiety. This culture of wanting to be famous at the expense of someone else's depression is not cool," he started off his thread.
He then went on to call out the bully, saying he has learned to stand up to bullies but other people are still struggling, "Now I don't know what the person who posted this was trying to achieve but by the mere fact that they quickly deleted it after they posted it says a lot about their character. Unfortunately for them I have learnt to deal with bullies but someone else might not be as strong as me."
He also slammed those who share, like or laugh at these death hoaxes, saying they need to stop, "There are many things we can make fun of or ways to be famous but this is not one of them. Especially now when death has become such a daily occurrence in our lives. I hope whoever else sees this and finds such acts on social media funny gets some conscience from this and stops."
"I'm glad someone brought this to my attention cause this reminded me some people need to be stopped from using social media as a platform to hurt others. Again, depression is real, let us just be sensitive of what we post for clout."
Death hoaxes
are not a new thing and by the looks of it, are not going to end with Psyfo, if users continue to encourage such barbaric behaviour.
Musician Zola 7 was the latest celebrity to face death rumours.
Zola is living with chronic epilepsy and is struggling but with the help of his close friends and family, and lots of medication, he is pushing through.
The longest Zola has fainted was two days. He revealed this in an interview with Daily Sun, "I'm not well and it is true that epilepsy is very hectic and you need to learn about it. I faint most of the times but I'm not dead, I'm alive," he said in an interview with the
Daily Sun.
"I have to take different kinds of medication to keep myself alive because it may kill me. It's a disease but it's also chronic, it won't go away," he said.
Read next:
Zodwa Has A Message For Thabo Smol
Picture credit: Instagram