Last week we were out and about in Randburg to see what the good people at the Mzansi Magic centre had in store for us with regards to Channel O's new show, Turn up, hosted by Siyabonga 'Scoop' Ngwekazi
Upon our arrival we expected the Turn Up crew to be hard at work- and so they were! However, by the sounds of the jovial laughter coming from the production room it was clear that a mixture between hard work and fun was what kept this well oiled machine and running. 
We were so early for our behind the scenes experience that we managed to catch Scoop still in his rehearsal elements, Ngwekazi really makes this presenting gig seem effortless to do.  
Sporting a pair of Air Yeezy's, baseball-jacket and a beanie hat it was clear from the get go that Scoop's love for hip hop attire is more than just about the look but also about living out the lifestyle that many fail in keeping up with.  
Before the live airing of the show we chopp it up with the man to hear his views about style, fashion and Turn Up!
Your clothing line Pieces; how has it been coming along considering the tight competition with new local brands surfacing up?
I'd firstly like to thank everybody who has shown interest and interest has been proven in terms of the stock getting bought.  Most of my clothes have been sold out online, especially my baseball shirts which are doing extremely well online. I also have a little winter line coming along which includes a black version of the baseball shirts, the pom pom beanie hats as well as baseball jackets which I'm really excited about. But really, thank you to everyone for the support from Botswana to Lesotho, Swaziland and obviously here at the love has been incredible!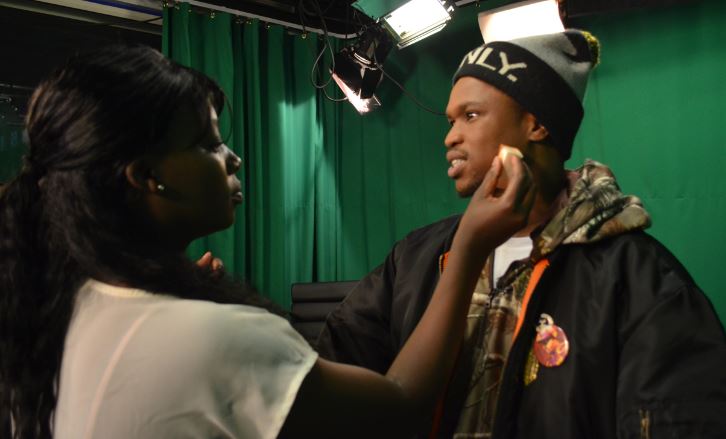 You're known for spotting trends before they even become known. However, people tend to overlook your trend wisdom and only latch on it when bigger retail stores jump on the wagon. How do you feel about the public overlooking your trend vision at times?
I think, as someone that loves clothes or sneakers or whatever, if you're really good at doing something people are going to imitate it.  If you really make something look good and attractive people are going to gravitate towards it.  I used to battle with it in the beginning but I realise that some of the stuff that I create, I've also borrowed from other people so I can't be that selfish.  The only thing that I can ask is that even though you're taking something from someone at least have the mind of putting your individual imprint on it and that creates a space where everyone can exist.
You've mentioned numerous times that your father has been the core influence in your sense of style. What exactly about what he wore influenced you the most?
Yonke into (everything) Eastern Cape men really know how to dress, now that I'm getting older I'm starting to realise that it wasn't just him but most men from back home.  Even now when I go home I realise that it's everything about their dress sense influenced me from their socks, belts, braces, to the cufflinks and cologne they wore and my dad just had it all! Even when it comes to the African attire, my dad use to wear that attire way before it became fashionable.   He use to wear clothes from Ghana and other Northern African countries and I use to ask myself "what is up with this dude"  but now I get it, like I said everything about my father and his sense of style influenced me.
Look out for our part two interivew which will include the man of the hour discussing his new show Turn Up and Bob Mabena.