There's no greater feeling than buying a car! Getting new wheels can be a gratifying feeling, the days of dealing with taxi drama, especially the counting of change, becomes a thing of the past.
Although Thando Thabethe already had a set of wheels, the actress has reached the next level of balling! Thando recently shared with her fans this picture of her new baby, a white Range Rover Evoque with a red top.
As they say, there are levels to this celebrity lifestyle and Thando is proving that with her sexy new wheels.
A congratulations and a peck on the cheek for her Range Rover.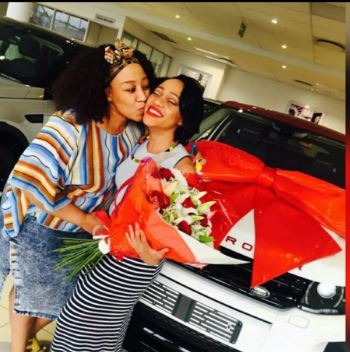 Thando Thabethe is added onto the list of many of our female celebrities who have brought new wheels this year. The likes of Boity had our jaws dropped all the way down to the floor when she showed us her Mercedes Benz, which was later given a very bright but sexy touch.
Samkelo Ndlovu also joined the Mercedes-Benz team a couple of months ago and we can't help but just congratulate these ladies on their achievements.
If you've recently also bought a car, congratulations to you too. Tell us about how you felt when you went to go pick up your first car at the dealership by leaving your story in the comments section below.
It's Throw Back Thursday and we dedicate Jagged Edge's Key to the Range song to Thando Thabethe. Enjoy your ride!
Image Credit: Supplied