Thembi Seete like many women, has consistently struggled with her weight, but her struggle has been balanced with her determination to lose that weight. And for the past couple of years we've seen Thembi transform into the best shape she's ever been in.
The woman is an absolute beast when in the gym. You know those people who try to be smart by taking selfies of themselves in the gym, but hardly show videos of them sweating the fat off? Well, Thembi Seete is far from that type of breed.
Her Instagram photo's and videos alongside her personal trainer are a true testament of why Thembi's body is banging!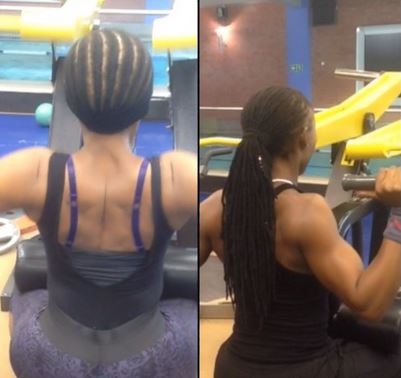 So if you happen to bump into Thembi at the gym and she seems to have a mean face on, forgive her, she's in the middle of a war with calories, it's nothing personal.
But then again with a sexy fiance' like Bobo from pop-group Denim, it's only fitting that  they compliment each others hotness by hitting the gym every now and then.
Besides being an entertainment powerhouse, did you know that Seete is also a dedicated video director and has directed videos for the likes of gospel singer Lundi?
Go on with your sexy self Thembi, we see you!