Call us foolish, but we really thought 2016 would get off to a drama-free start, as everyone was in relaxation mode following a hectic festive season.
But along came Penny Sparrow… and chirp away she did!
Penny caused an uproar on social media after she expressed her disgust with black people, or as she calls them "monkeys", who left Durban's beaches filthy during the holidays.
Her post would have gone unnoticed had it not been for one of her Facebook friends, who took a screenshot of her comments – and put the real estate agent on blast - hashtag, "these friends ain't loyal". 
READ: Jo-Ann Strauss attacked for #PennySparrow tweet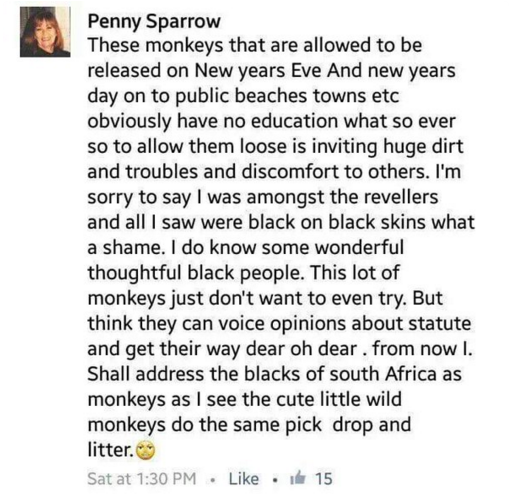 Local celebs joined thousands of South Africans in expressing their disappointement, shock, and anger over her comments. 
Dear #PennySparrow If you can't stand "monkeys" then Africa is a wrong continent for you. #RacistsMustFall pic.twitter.com/2bPWwW8OKj

— Terry Pheto (@TerryPheto) January 3, 2016
White people be like #pennysparrow pic.twitter.com/z6ejzJ0IH6

— Jason Lee McCall (@JasonMcCall01) January 4, 2016
#PennySparrow is RACIST and SHALLOW. Humans around the world love the beach. Regardless of race. pic.twitter.com/XJu1hy7jxG

— Ashifashabba (@ashifashabba) January 4, 2016
READ: Siya Radebe feels for #PennySparrow
But Penny was not the only casualty on Twitter this week. Gareth Cliff also faced the wrath of Tweeps when he retweeted a poll that asked if people should be criminally charged for racist posts, and implied that the comments could be considered free speech. This did not sit well with tweeps who labelled the Idols SA judge a racist. Gareth admitted that his timing was off, but insisted he was not a racist.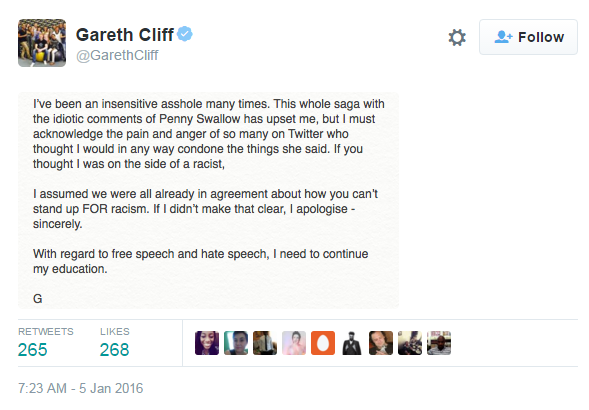 READ: Twitter users threaten Jo-Ann Strauss over #PennySparrow
In the midst of all the tension, senior eNCA anchor Andrew Barnes did this…
@eNCA why is your Anchor imocking Min Angie's inability to pronounce an English word ? pic.twitter.com/Nh9pEhaLmA

— @esethuhasane (@EsethuHasane) January 6, 2016
Mocking the Basic Education Minister's pronunciation of the world "epitome" did not sit well with many South Africans, who felt his behaviour was unprofessional, especially considering English is not the minister's first language, and he can barely pronounce her surname correctly.
So, of course, this happened…
[NOTE] eNCA Senior Anchor Andrew Barnes apologises for his comment about the Basic Education Minister. https://t.co/8jaxFz0D88

— eNCA (@eNCA) January 7, 2016
Add DJ Sbu to the mix, and Twitter was lit (as kids these days would day) this week. 
After a 2015 filled with several controversies, we thought DJ Sbu had left all the drama behind him, but…
Dj Sbu and lies pic.twitter.com/h5pn3ngc3O

— ✨Maryjane✨ (@Maryjane_iAm) January 5, 2016
DJ Sbu posted a tweet praising Katlehong teenager Mpho Mokoena for scoring 100% in all his matric subjects, as part of his bursary initiative. The wunderkind quickly started trending under the hashtag, Matric 2015.
But there was a (not so) minor problem with the exciting news - Mpho finished matric in 2014, and while he did receive amazing results, he did not score 100% as DJ Sbu had claimed.
READ: DJ Sbu faked MoFaya SABS approval logo
Tweeps once again felt played by DJ Sbu.
Dj Sbu why. pic.twitter.com/yw3E5741AV

— Sheik Stylez (@SirStylez) January 5, 2016
Tweep 1 :"what did DJ Sbu do?" Tweep 2 :"His Mofaya made a student get 7 Distinctions" 😆😆😂😂😂😂

— •Tinashe• (@Tee_Shabane) January 5, 2016
Dj Sbu is extreme, like really. now I I don't even trust the Mofaya ingredients. it could be Coke Zero and Soda for heaven's sake

— #Change_Is_Inexorabl (@Lordwick_iam) January 5, 2016
It appears that DJ Sbu did not intentionally lie about the incident, and simply got it wrong. But at the rate he is going, he cannot afford any more slip ups in 2016; he has maxed out his controversy limit for the year after this moemish. Who are we kidding? This is DJ Sbu after all -  there is still more drama to come! 
*Our weekly column, Time for Tea, reviews news-making headlines. So grab yourself a cuppa, and join the conversation!