Trevor Noah is a big deal! Just in case you lived under a rock and didn't know, of course. 
The South Africa comedian, who was recently announced as Jon Stewart's successor on The Daily Show, seems to be making other serious moves. And now, pictures of Trevor chilling with Jerry Seinfeld and Larry David have surfaced.
The pic below was snapped at a baseball game in New York on Monday. Hmmm... We wonder what they were discussing. A new show maybe? That would be so cool. Our own Trevor starring alongside comedy heavyweights.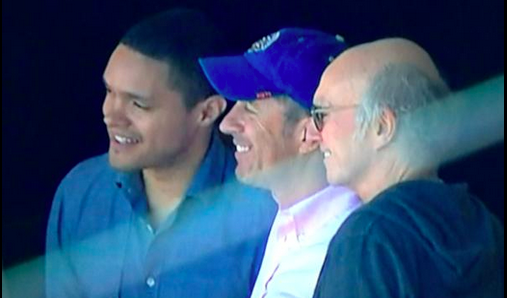 According to the Daily Mail, Trevor and Seinfeld had been photographed filming a segment for Seinfeld's Comedians in Cars Getting Coffee online series. They were reportedly filmed walking around a Brooklyn neighbourhood and behind the wheel of a white Ferrari.
Trevor is really making waves internationally. And, although most of the news has been positive, some comments have not been good. Just after he was announced as the new host of The Daily Show, his old tweets surfaced and sent some people into a frenzy. 
The tweets were about Israel, Jews and women and they offended a couple of people. This made headlines all over the world and was also discussed on CNN. Check out the video below for some people's views on Trevor.