We're at a quarter to the weekend and already some of us are awaiting Sunday night.
On Sunday, 27 September, we saw Nadia Herbst exit the Idols SA stage after she and Amanda Adams found themselves in the bottom two of the competition.
When it comes to Idols SA, you cannot afford to get comfortable because one minute you're the person of the moment, but the next thing Proverb is not reading your name for the next round.
The selected Top 9 contestants had a great run. The likes of Rhema, Loyiso, and Karabo received praise from the Idols SA judges. We might even beat our chest a bit and say that these contestants are definitely making it through to the next round, but we all know how unpredictable this competition is.
One performer who didn't receive great feedback was Siphelele Ngcobo, who sang Thandiswa Mazwai's Nizalwa Ngobani.
Despite the poor response from the judges, some fans of the show thought he did a good job…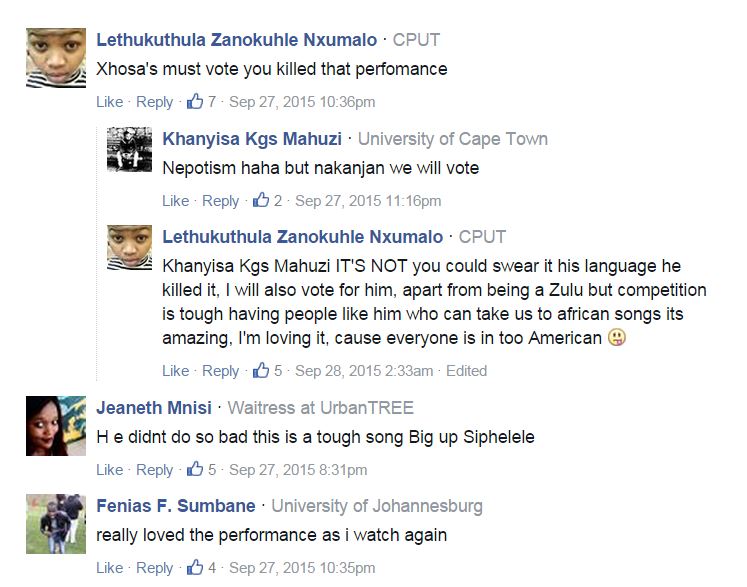 Idols SA judge Somizi was not convinced of Siphelele's performance and who could forget his hilarious Thandiswa Mazwai comment?!
"Thandiswa is rolling at Panyaza right now..waiting for you " Lol!!! Somizi #IdolsSA

— ZAlebs (@Zalebs) September 27, 2015
Mmatema Moremi, who is one of our favourites, also gave us a bit of a scare, when her name was announced later on in the show, she too didn't receive great feedback from Somizi, who requested more variety in her voice and performance.
Could she also be in danger of going home on Sunday? Maybe, maybe not, but like we said, Idols is such an unpredictable competition that is now highly dependent on people's votes. After all, we didn't expect Phila Madlingozi to exit so soon from the Top 10 round.
So who do you think is leaving this week? We have a feeling that Sunday's result is going to shock us all!
Image credit: Facebook