Model and Port Elizabeth student Zipho Zokufa who was recently crowned the new Miss South Africa after Rolene Strauss reigned as Miss World 2014/15, recently jetted off to Miami to represent South Africa for the 63rd Miss Universe Pageant.
According to her publicist, the 23-year-old will be competing against 90 other countries. And of course, we're all wondering who designed the two gowns she'll be wearing during the competition. To no surprise, her team informed us that her final gown was created by top South African designer Gert-Johan Coetzee and her national costume was designed by Gregg Maragelis from Cape Town College of Fashion Desing (CTCFD).
By the looks of things Zipho is having a splendid time in Miami. A couple of hours ago she posted this picture of herself in a gorgeous pink gown at a luxurious golf course resort.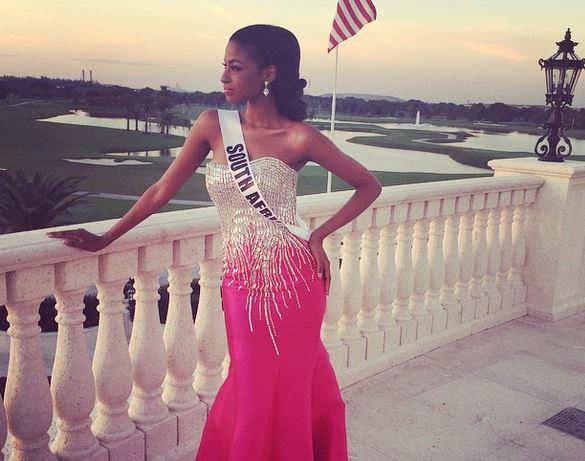 At such short notice, Zipho had to fully immerse herself in her duties as the new Miss South Africa. Since her crowning, Zipho has embarked on a 24/7 schedule to prepare for Miss Universe from photo shoots, interviews, video shoots and fittings.
Sun International PR Manager, Claudia Henkel, believes that Zipho will do an outstanding job in representing South Africa:
"I am confident that she will make us proud, she is incredibly determined, beautiful and confident, considering the limited time she had to prepare." Said Henkel.
It would be a wonderful achievement should Zipho win Miss Universe 2014/15, we wish her all the best and hoping she brings that crown back home for all of us!
Credit Image: Instagram and Nine Squared Communications