ZAlebs absolutely loves it when an average Joe comes up on top as a winner. We especially love it if it involves beating 55 000 contestants from around the world, making it to the top four position of a competition held by the most renowned brand in the world, McDonalds.  A lady who most certainly raised the South African flag high this week goes by the name of Precious Mahlangu from Ga-Rankuwa Pretoria. Preciousperformed at the Voice of McDonalds (VOM) Competition in the APMEA (Asia, Pacific, Middle East, Africa) regional finals and has now progressed to the finals of the global competition.
Out of 55 000 contestants Precious was selected as one of the top four finalists from AMPEA and will compete alongside 12 other contestants from around the world in the VOM finals in Orlando Florida USA in 2014.  Precious out sang and outperformed 55 000 other hopefuls. Her energetic and spectacular performance had the judges and audience in awe and has earned her a spot in the top 12., Precious will be joined by contestants from Israel, Australia and the Phillipines to compete for the title at the global finals in 2014.
Precious, who works at the McDonald's Zambezi restaurant, stands a chance to walk away with a whopping $25,000 in prize money should the will at the global finals.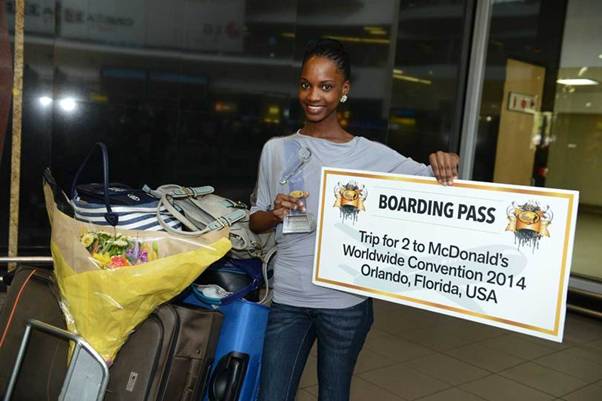 Voice of McDonald's 2013 global finalist Precious Mahlangu at O.R. Tambo International  Airport after her success at the APMEA regional finals that took place in Hong Kong
"This is a great moment of pride for us, we are all so proud of her and we're sure that the rest of South Africa as well as the whole McDonald's family will be rooteing for her in 2014 at the global finals," said Greg Solomon, Managing Director of McDonald's South Africa.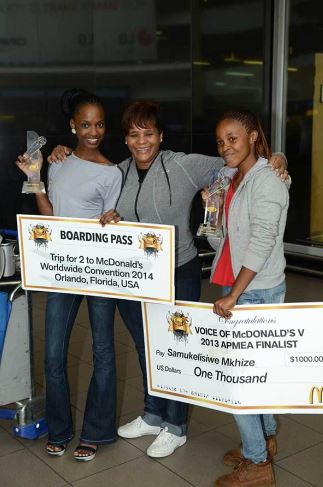 Voice of McDonald's 2013 global finalist Precious Mahlangu with McDonald's South Africa Operations Director Jo Ann de Wet, and fellow APMEA contestant Samkelisiwe Mkhize.
VOM is McDonald's global employee singing competition that is targeted at its restaurant employees
ZAlebs would like to congratulate precious on her top 4 position and wish her the greatest of luck for next year's global finals.  Bring that prize home lady!