Forget about Christian Grey, this Freedom Day weekend is all about girl-power. 
BITCHES – Fifty shades of funny is showing at the Lyric Theatre at Gold Reef City on 26 and 27 April. The all-girl-sketch comedy features the likes of Monique Nortjé (the first woman to be nominated for a SA Comic's Choice Award), Tracy Klass and the new first lady of SA comedy, Tumi Morake. Audiences will also get to see the queen of Zulu comedy, Celeste Ntuli and the snappy Mel Jones.  ZAlebs reporter, Ella Green, caught up with the show's MC Anele Mdoda, who says she can't wait to be in the same room with the cream of SA comedy.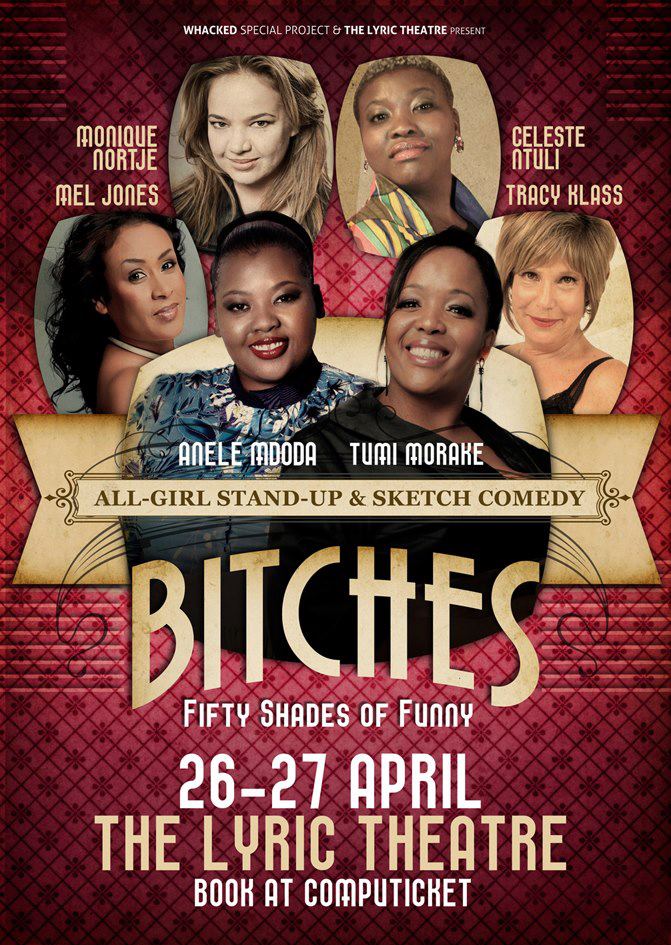 "They've being doing this comedy thing for a while and they just have never been on stage together. What I want to stand out is that, it's not like they funny because they are women. They are funny because they are funny - they just happen to be women," says Anele. 
The sharp-tongued radio DJ says she doesn't think the show's cheeky name will offend anyone.
"I like it! I think bitches has become a word that is not a swear word anymore. In grade two if you had called me a bitch on the playground, you would have been expelled. Now we're older, it's funnier, it's basically just used everywhere," she says nonchalantly.
Anele, who is often referred to as the biggest mouth on radio, is a favourite to host shows and MC events. She was a co-host on the reality show SA's Got Talent and has also served as a judge for the Miss South Africa pageant. You might have also seen her as a judge on Clash of the Choirs SA which aired on Mzansi Magic. Anele says she is looking forward to hosting BITCHES – Fifty shades of funny as it's something she is proud of doing.
"MC'ing this event is more exciting because I love these ladies. You have an all-female line-up, it's in a big theatre and it's a big show. All the production that is being thrown into it, the stage is absolutely fabulous. We doing skits, we doing an opening song that we have not started practicing, so we'll see what happens," she laughs. "It's a big deal and as a female broadcaster I wanted to be part of something that is selling our female comedians."
The two-hour show, which has an age restriction of 16, is directed by John Vlismas and produced by Taffia Keight. Organisers promise a slick, tight line-up of stand-up comedy, stitched together with song, dance and sketch so funny, it'll be an evening like no other. 
Anele might be a pro at her job but she also has her awkward moments on stage. 
"Anything can go wrong but I think the beauty of it is you must be able to roll with it even when it does go wrong. You must be able to make fun of yourself because people only really relate to people who don't take themselves seriously," she says.
Zalebs is giving away tickets to the opening night. Three people will each win two tickets!
Q: Who is the first woman to be nominated for a SA Comic's Choice Award?
Remember to include 'Comedy show' in the subject and your contact details with the answer.
Competition closes Thursday at noon.