Black Coffee
really came through for
Somizi and Mohale
in a massive way when he performed a special set on their special day!
It's all anybody can talk about right now! We always knew that the
#SomhaleWhiteWedding
was going to be a massive affair, but even still; it's been breathtaking to see the manner in which they executed their big day. And we say that after only catching a few glimpses into their white wedding ceremony - the lovers have kept their entire wedding under wraps from the public eye!
We were worried we were going to be left out altogether but thankfully, the couple confirmed that it's only because they are working on a historic four-part wedding special which
is coming straight to Showmax next month.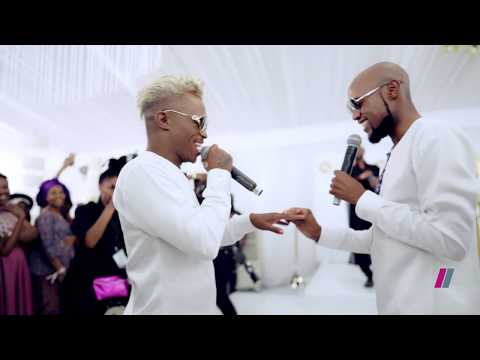 While we weren't able to witness many of the key moments at Somhale's wedding, we did catch wind of something pretty big that went down:
Black Coffee's
mega surprise to the couple.
Anybody who has ever watched Black Coffee live will know that he is an extraordinary performer. While it's one thing to watch him at one of his own shows, it's another thing altogether to have him perform a special set just for you.
That's exactly what the
Music Is King
superstar did on Thursday as he graced the #SomHaleWhiteWedding with a signature set that included a host of the couple's favourite songs.
ZAlebs spoke to one of
SomHale's guests
who asked to remain anonymous and he could not hide his excitement at everything that went down. He said to ZAlebs, "The moment when Black Coffee turned up behind the decks people lost their minds. I mean, the day was filled with surprises and exciting moments, but this part was special. We wanted to dance but we didn't realise we were going to dance like THIS!"
According to onlookers, Black Coffee's surprise performance was such a moving gesture that it even brought Somizi to tears! Aww, guys!
Somizi himself wrote about the special moment when Black Coffee played at
his
wedding when he said, "My dreams came true last night. What a pleasant surprise. This man was supposed to be performing overseas and he decided to surprise me at the end of the evening and played at our wedding. I cried like a baby with excitement. Black Coffee, I'll forever cherish this moment".
We are all itching with anticipation for the 24th of February where we will be able to watch the first episode of Somizi and Mohale: The Union. The four-part wedding special will be airing exclusively on Showmax and will give viewers the chance to witness and celebrate the couple's special day.
HOW TO GET SHOWMAX:

Sign up for
Showmax
mobile and get full access to the full catalogue on one mobile device for R49PM. Vodacom customers can get Showmax mobile plus 2GB data for R99PM.
New customers get a 14-day free trial and then pay R99 per month for
Showmax's
standard plan.
DStv Premium subscribers get Showmax free - go to showmax.com to sign up. DStv Compact and Compact Plus subscribers pay R49pm.
Read Next:
First Look! The trailer for Somhale's wedding special just dropped!
Image Credit: www.instagram.com

Right now you can sign up for Showmax mobile and get full access to the full catalogue on one mobile device for R49PM. Vodacom customers can get Showmax mobile plus 2GB data for R99PM.