Television personality and socialite Sthembinkosi Junior Bikwa, popularly known as Bujy, showed some self-love on Twitter yesterday morning.
He tweeted a picture of himself captioned: "#Mornza don't be mad cause I am cuter than the gay that's thinner."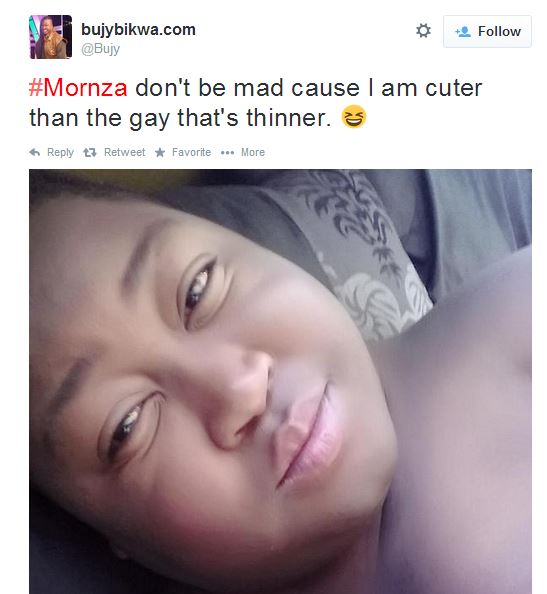 As we all know, though, Twitter users can be a bit judgemental sometimes and many tweeps found the need to voice their opinions, with some saying he looks like a fat cake and some applauding his self-confidence. 
"Bujy Looks Like I Don't Know What," criticised one tweep.
While one simply tweeted that he's an "amoeba" and another hater wrote: "iGwinya" (fat cake).
Some people showed the TV host some love, though, with tweets like: "Bujy's self confidence is so amazing"
And rightly so! He does after all describe himself as the world's greatest supersize entertainer and is confident in showing it.
Born in Zimbabwe, Bujy Bikwa moved to South Africa with his mother in 1992. Known for being one of the Top 4 contestants on SABC1 reality competition Dance Your Butt Off, Bujy currently hosts Mzansi Magic music-themed game show Cula Sibone.
Teamtalk
Credit image: Facebook/BujyStar and Twitter