In just a space of a few months,
two women had accused DJ Fresh of rape.
That was five months ago but social media will not let
DJ Fresh
rest until the alleged victims get their fair share of justice.
Read more:
Rape Charges Against DJ Fresh and Euphonik Dropped
The radio DJ who lost his job at 947
after the allegations were first brought to light, wished the Economic Freedom Fighters (EFF) a blissful 8th birthday. The political party re-posted the DJ's wish and they received some backlash for doing such.
The political party re-posted numerous birthday wishes from prominent figures but Fresh's message received mixed reactions as they were accused of giving
an alleged rapist a platform.
In his mother tongue, Fresh congratulated EFF for all that they have achieved in the their short reign.
Many angered Tweeps slammed the EFF for even putting the birthday wish on their page and some threatened to report their page.
The rape scandal started when a woman by the name of
Nampree accused the DJ Fresh and his friend Euphonik of rape.
The alleged incident happened in 2011 at a hotel with the accuser and her friends. She also added that they drugged her but Fresh said he does not knot the woman who surname is Madikizela.
"This is all so weird having to explain myself about a person I don't even know!!!"
and has now revealed that the family actually contacted him...the same family he tweeted about not knowing weeks back.
He replied to a tweet of someone who called Madikizela a pathological liar and tweeted yesterday:
"Aunt of hers called me 3 weeks ago stating EXACTLY THIS!!!She wouldn't speak on the record coz "family."


The National Prosecuting Authority (NPA) dropped the case in February as there was insufficient evidence to prosecute the DJs. Still, to many this does not prove that the DJs did not commit the crime therefore they want them cancelled.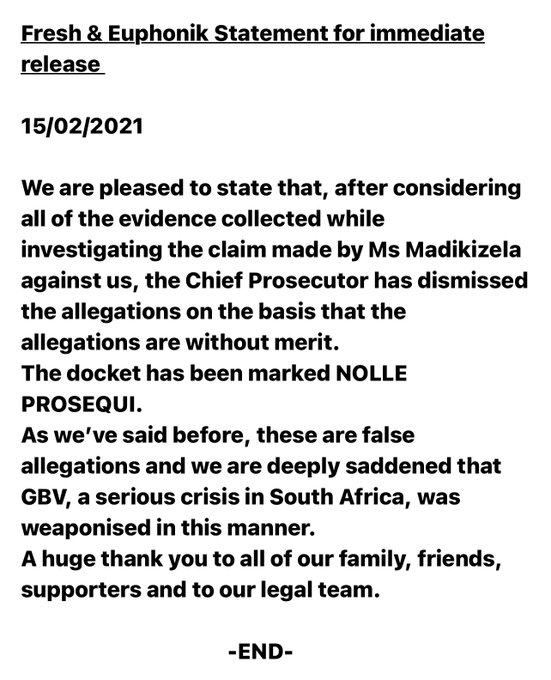 It does not end there,
a second woman this year accused Fresh of raping her
whilst she was till in high school. The woman @TheKingsTings has in a series of tweets, outed Fresh for this serious crime. It gets more confusing, she also claimed to have living proof.
"I hope they come for me. Cause I have the institutional backing (and also living proof to back it up) but I've been aware of DJ Fresh as a predator since I was in late high school. I just didn't have the language to call it rape then," s
he said.
"
I know
Fresh
follows me. I would like you to sue me. I have a lot of things to say that I can only be protected in saying once you bring the matter to a court of law. But I know like you know that your victims are many. And some of them birthed proof of your abuse."
She had since deleted her tweets.
It is not know if this accusation landed in court or not, as Fresh had not said anything relating to the incident.
Read next:
"Please Don't Bewitch Us"
Picture credit: Twitter