Cindy Manqele, the girl who's been accused of killing rapper Flabba, made a brief appearance at the Alexandra Magistrate's Court on Tuesday morning. It has emerged today that the murder case has been postponed to the 16 March, which is next week Monday. 
The 26-year-old, who is accused of stabbing and killing her rapper boyfriend, was arrested on Monday morning. SAPS spokesperson, Lieutenant-Colonel Katlego Mogale said Flabba was found to have been stabbed to death, while family spokesperson, Tshepang Habedi revealed that the rapper, who is also his brother, was stabbed once in the heart.
It was particularly heartbreaking when Tshepang revealed to the media that he had watched his brother die following an alleged altercation with Cindy.
According to reports, Cindy told the court that she was in great pain and that she had sustained bruises and stab wounds to her arms and stomach. She also reportedly showed the court her injuries.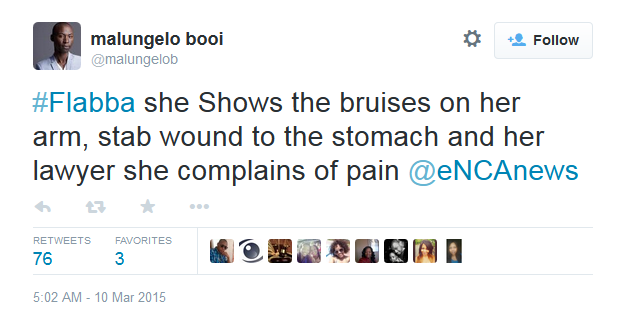 eNCA reporter Malungelo Booi tweeted that Cindy's lawyer confirmed that her client would be applying for bail although her chances of this being successful are unknown. "The state said that it [the bail application] would be opposed," Booi added.
While all of this has been taking place, it's been reported that Cindy's family members have received threats from Flabba's angry fans outside the court. This follows from yesterday where Flabba's fans attacked Cindy in pictures uploaded to the rapper's Instagram profile.