Don't you just hate it when that one couple who was a beacon of hope for all celebrity couples just decides to call it quits without consulting us the public first?  Ok maybe we went a bit too far with that consulting part but Psyfo and Hulisani why?  
Apart from the Ferguson's you two were one of the few celebrity couples that we thought were going to last for the long run. We guess we've been proven wrong.
Two days ago Hulisani made it official with this rather indifferant tweet about her new relationship status. "Yeah I'm single" she tweeted.
As we picked our jaws from the floor many questions rose as to what happend and whose fault was it for this relationship to end? Yes we know relationships don't last but we never saw this one coming.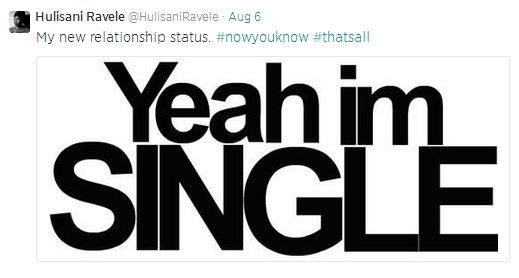 Two days have past and we're still asking ourselves what could've happend? Is it because of Psyfo's hip hop lifestyle and him hanging around hip hop casanova's like Smashis? Is it because Hulisani is doing an amazing job on television and as a businesswoman in general that it started to intimidate Pysfo? Who knows!
Just a week ago the two were smothering each other and posting lovey dovey pictures on social media and now people are pushing that single life.
Even her avid followers were in disbelief: 
"If this is true I'm going to stop believing in love or fairies" One follower commented. 
And here we thought Psyfo was talking about Hulisani in his recent single Umuntu wami, shame even Hulisani thought he was talking about her.
In one of the pictures she wrote: "Happy Birthday umtu'wam! A brand new year for you with amazing new beginnings, look at God! You inspire me in so many ways, and it's nice to call you my muntu." 
Psyfo on the other hand has been rather quiet about his relationship status, focusing purely on his hustle as a rapper.  If we lost a gem like Hulisani for a girlfriend we guess we'd also bury our heads into our work.  Psyfo what did you do to Hulisani?  We want answers.
And just a few moments ago we received our answer, apperantly South African female celebrities posted their 'single' status on social media platforms in light of a new POWA campaign. The likes of Hulisani, Roxxi Burger and Tumi Morake joined in on this campaign, check the video below for more information. Alright guys you had us fooled.
Credit Image:Facebook.The Real Psyfo and Hulisani Ravele