Loyiso Gola has called Cassper Nyovest out on his Woolworths Twitter rant.
This comes after the rapper took to the social media site to express his feelings about Woolies collaborating with Pharrell on their latest campaign, dubbed Are You With Us? The rapper thinks that the retail store should have used a local artist instead. 
But not everyone agrees with him. Loyiso told the Doc Shebeleza hitmaker what most people were probably thinking; Cassper should just stop complaining and let his work speak for itself.
Loyiso first told Cassper that Woolies can do whatever they want with THEIR money. He then told the rapper: "@CassperNyovest I always see you complain about strange things like Kanye West stealing Kwaito. Nobody owns Kwaito. Nobody owns rap." 
The comedian went on to tell Cassper that complaining about Pharrell doing a Woolies campaign "is the same as Americans complaining about Trevor hosting The Daily Show".
Loyiso also gave Cassper some words of wisdom. He wrote: "@CassperNyovest my advice to you is become a global superstar so @WOOLWORTHS_SA can choose you over Pharrell not because you are local."
That's great advice from Loyiso, right? Right!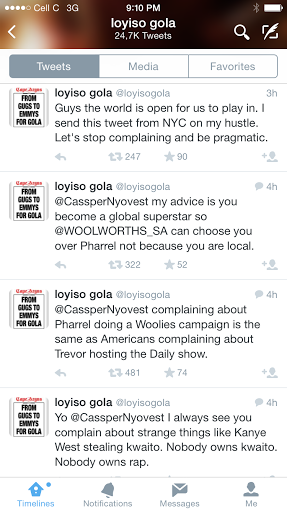 A lot of people on Twitter immediately jumped to Loyiso's side of the argument, agreeing with the points he made, however, Cassper felt like the comedian was just mocking him. How sad... Cassper is STILL sticking to his story though and maintains his self-proclaimed mission to defend local artists and local acts. Shame, maybe he's bitter because he wasn't invited to the launch event like we were?

Oh, but it turns out, Loyiso was not being disrespectful. As a fan of Cassper's music, the comedian felt like he earned the right to call him out. That's kind of fair; if Cassper is willing to speak in public, he should be willing to be criticized.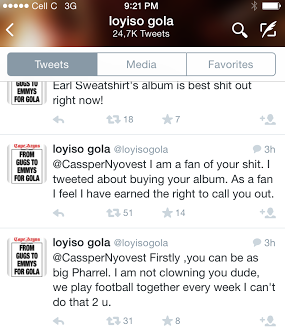 Phew! Now we wonder what their next football match will be like. Do you think Cassper will slide tackle Loyiso?