Well, nobody quite knows how to begin this morning following the news that Lulu Dikana has passed away. Right now there are no confirmed reports around the possible cause of death but several unconfirmed rumours have mentioned that she died of a "short illness". We have to say, we had no idea she was even sick at this time! 
It was just a few weeks ago when we interviewed the budding and talented singer, ahead of her accompanying John Legend on the South African leg of his All of Me tour. Younger sister to talented singer, Zonke Dikana, Lulu was started to make some strong moves in the industry and she was widely hailed as a talent to watch in the future. Her being chosen as the only local act to perform at the John Legend concert was a true testament to her talent. 
This Facebook post below seems to be one of the earliest sources to have confirmed the news, although like many other comments we've seen, there's no real description over what the "short illness" might be.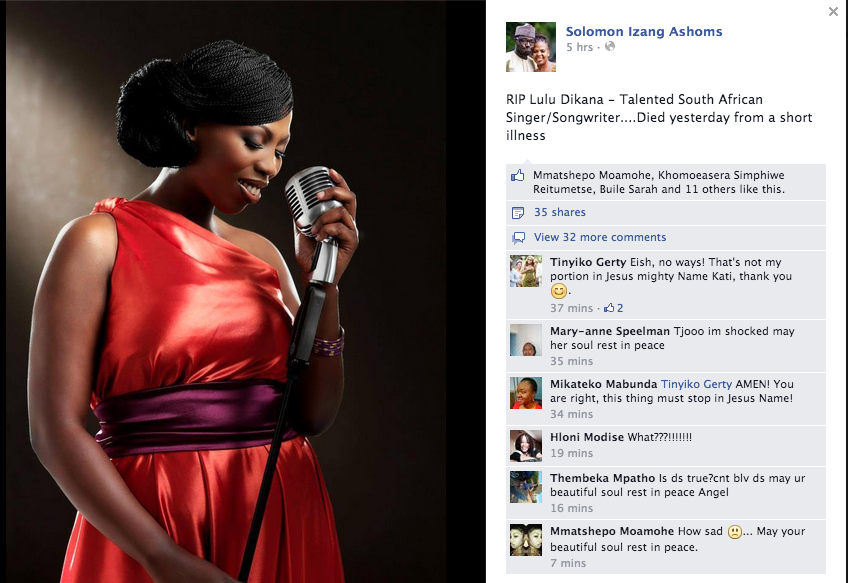 The writing was on the wall, even though we don't think many could have expected her to pass away this suddenly. Her scheduled performance at Skyroom Live this Friday had already been canceled following news of her illness. Whatever it was, it was clearly severe. 
Just in: Lulu's manager - Nqobile Mnisi confirmed to the Sowetan that Lulu had passed on at an unamed hospital last night due to a short illness.
Earlier on in the week her younger sister, singer and X-Factor SA judge Zonke had posted this tweet from the hospital. Judging from it she probably was visiting Lulu.

We're disappointed to announce that @luludikana will not perform on Friday at @VirginMobileSA #SRL #UrbanSessions due to illness.

— Skyroomlive (@skyroomlive) December 2, 2014
We send our sincerest condolences to the Dikana family who must surely be heartbroken at this point in time. As soon as we have further details on the story we will fill you in, but for now, Mzansi is a sad place. 
RIP Lulu Dikana