According to Sunday World Vanessa Masilo has been the side chick of Bafana Bafana star Itumeleng Khune for some time, however his long-term girlfriend Minnie has found out about the alleged affair. As you know the Mzansi rumour mill is always in full flow and this week the word on the street is that the news of Vanessa's affair with Itu is the final straw; Minnie has called it quits with the Kaizer Chiefs goalkeeper. 
An apparent colleague of Minnie spoke to Sunday World and she revealed that Masilo told them all that she was having an affair with Khune and that Minnie knew that she was Itu's side dish.
"She claimed that she knew people in high places and would influence them to fire Minnie. This did not sit well with other staff members, who told Minnie to watch her back."
Dlamini ignored Vanessa because she was worried that all the information would be leaked to the media if she confronted her.
Here's a picture of Vanessa Masilo- Itumeleng Khune's alleged side chick: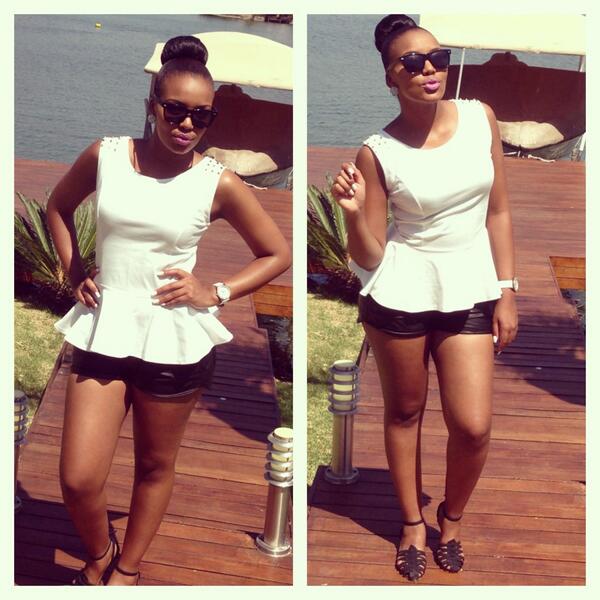 "Upon introspection, she decided to end her relationship with Khune after realising that he was putting her career at risk by having something on the side with a colleague who threatened to have her fired," said the colleague.
All of Minnie's close associates confirm that the two have broken up because of Masilo's claims (And we have to wonder, if they DID break up, does this mean that Vanessa is telling the truth about hooking up with Khune?)
"There comes a point where you choose between your job and your relationship. Minnie doesn't know this woman. She was just shocked to learn of claims that she [Masilo] was seeing Itu behind her back." Said another associate.
PS: This isn't the first time Minnie Dlamini has made headlines in the last month; remember the fight at her birthday? (Click on this link if you don't!)
In a written statement, Dlamini confirms that she knows about Vanessa allegations.
"Yes. I have been informed by my employers of a lady who reportedly has an obsession with me.
Personally, I don't know who she is and I don't care.
My focus has been my growth within the world of sport and my exciting new summer ventures.
Bobby Motaung the Kaizer Chiefs boss has declared that Khune will not speak about this issue because he is preparing for the league match against Free State Stars.
Credit Image.Instagram.Minnie Dlamini:Twitter.Vanessa Masilo