It would seem that more and more ZAlebs are using their medical aids this festive season. Case in point,
Moshe Ndiki
, who recently revealed that he was hospitalised. A matter he addressed via his social media following three days after being in hospital at the time. As previously
reported
:
Read more:
Moshe Ndiki's Son Graduates
Moshe Ndiki in hospital

Taking to Twitter recently, Moshe shared an image confirming that he was in hospital. On the blue app, he did not go into detail as to the reason for his hospital stay. However, on Instagram he did host a live session where he shared more about his experience sleeping over at the hospital.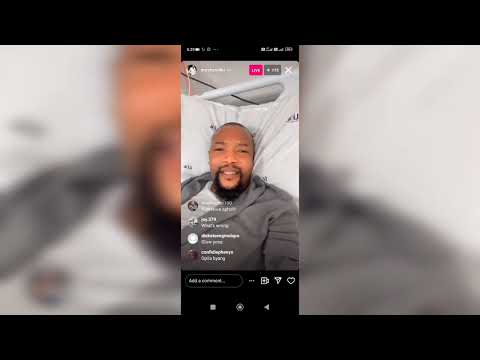 However, Ndiki maintained his comical stance as he suggested that he was treating the stay as a vacation from work. While he did receive get well soon messages from his fan base, Ndiki would later in the day confirm that he was officially discharged and he is going home.

Moshe Ndiki drags private healthcare workers
Following his initial stay, Ndiki had kept mum on his experience with healthcare workers during his stay at the unnamed hospital. However, recently, he did take to Twitter to make his feelings about healthcare workers and the manner in which they do their job has had him in his feelings. The thread starts with Ndiki writing:
"Health care workers need to start working on their decorum at work. How can you be in ER and they are shouting "Mr Faku" and the other one wants a picture ? Like wtf?

Guys please, the last place you ask someone for a pic is in hospital."

Ndiki went on to share more of his negative experience with private healthcare workers as a ZAlebs. He seemed to highlight that the workers in question neglected to see him as a patient, but instead saw this is an opportunity for the photo op.
Seeing as the post might have been read negatively by the general public, and
risk being dragged by Musa Khawula again
. This being as a result of how healthcare workers are lauded. More specifically private healthcare workers in light of their hard work and sacrifice during the pandemic.
Ndiki contextualised that his sharing his experience and feelings towards healthcare workers was based on the fact that he was admitted again into hospital. It seems that following his first three-day stay, Ndiki might have felt so much better that he picked up where he left off in terms of his workload. As such, it comes as no surprise that he would again find himself back in the hospital.
As such, the confirmation of his re-admittance was followed by well wishers hoping that he recovers and returns home. Moreover, well wishers shared that when he is discharged, he should take his health seriously and not to prioritise his
workload
over his health.