This week, Zalebs had the pleasure of sitting down with Nomuzi (Moozlie) Mabena; your favorite bald chick from MTV Base. Her life and career appear to be going from strength to strength ever since she won the MTV Base VJ search last year, and she hasn't looked back since.
We sat down for lunch and talked through her life, her experiences post winning the MTV Base VJ Search (And now hosting it this year!), and of course what advice she had for those entering.

Nomuzi was her charming, down-to-Earth self as we spoke. She tells us of how excited she is for this year's search, one senses there's a little more security for her this year round since she is hosting rather than entering! She promises a lot of excitement as well as a completely different competition this year round. " A lot of people think it's going to be similar to last year's comp when I won. It's going to be completely different, you have no idea what's in store!"

When we asked what we could possibly expect she teased us by saying we had to wait to find out!
Nomuzi Gives Advice to Hopefuls
"We're not looking for someone who can get through the audition. We're looking for someone who can do the job" This is probably the most crucial bit of advice that she was willing to share on the day. She became stern as she explained the true challenges of the job. You work, and question yourself in the real world, so it only makes sense that anybody who has any ambitions of doing well in the competition prepares himself or herself for the real deal.
She reminds us that the most important thing as a contestant is your mindset. "The biggest decision I made was the decision to enter, and I told myself this is my last audition. I said 'I'm getting this' and I did"
The Life and Times of Nomuzi
Outside of the VJ Search, Nomuzi is a busy body constantly interviewing superstars, shooting for MTV, and, whenever she can, spending time at home and just recuperating. She's quick to remind us that she doesn't let people's feedback get to her head. Whether it's positive, or negative, she doesn't let people's words get to her emotionally. "I do what I do, I am who I am. I can't please everyone and at the end of the day I can only do my best. I don't have to apologize for being who I am. I don't mind how people view me. If it's great, I appreciate it. If it's not, that's cool"

It's this kind of attitude that has drawn her to fans and viewers. Although she doesn't like being thinking of her followers as fans. "I'm not a celebrity! I think people can see that when Snoop Dogg comes down, I also get star struck and excited. I'm not a celebrity, and I don't think of people as fans, and I certainly don't think I'm above them"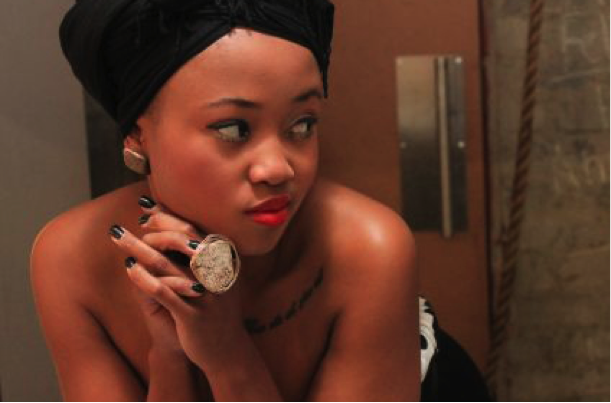 Nomuzi emphasizes the importance of sticking to your roots, and is especially grateful that her family and friends help her in this regard.
We spent the rest of the afternoon discussing our favorite music (We agree that local is lekker!) Relationships as well as our personal ambitions in our respective careers. It was nothing short of a pleasure chatting to Nomuzi, and we wish her the very best as host of this year's MTV Base VJ Search.