On this week's episode, we learn that it doesn't matter where or how you make money, just as long as your spouse is in support, people's opinions shall be treated with great oblivion.
Merriam, 32, and Balekane, 35, were both not fazed in talking about how Balekane plays street dice to make extra money. What caught our attention is how Balekane takes this gambling seriously - this man goes gambling for the entire weekend and makes sure that he doesn't forget to invite his ancestors before every game. This is what we call true dedication!
Did the gambling money ensure that this couple got their perfect wedding? Well, as usual, there were some parts which we felt hit a snag, while some went exceptionally well.
We are going to start with Merriam's dress. It was beautiful and had enough bling to shine through any form of load shedding. She confessed that she loves bling and we were not surprised, her gold tooth held all the answers.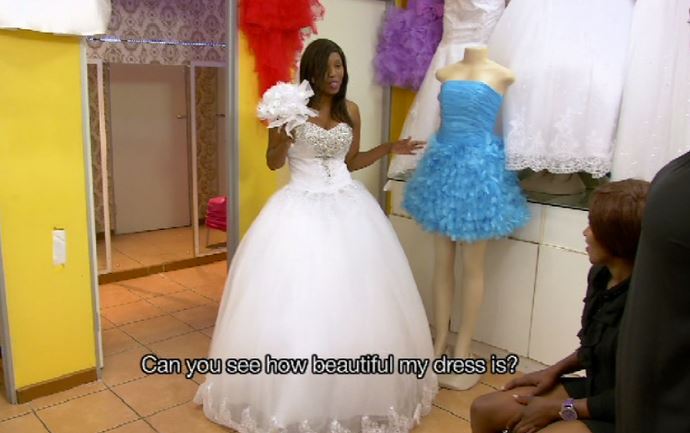 The bridesmaids' dresses were a dismal fail. We don't know whether to blame the colour, material, or the design. Why do people insist on these Omo and Surf colours and then choose taffeta? For the love of Zeus its 2015, can people leave this fabric alone? Unfortunately, their weaves were also not doing justice to the dire situation.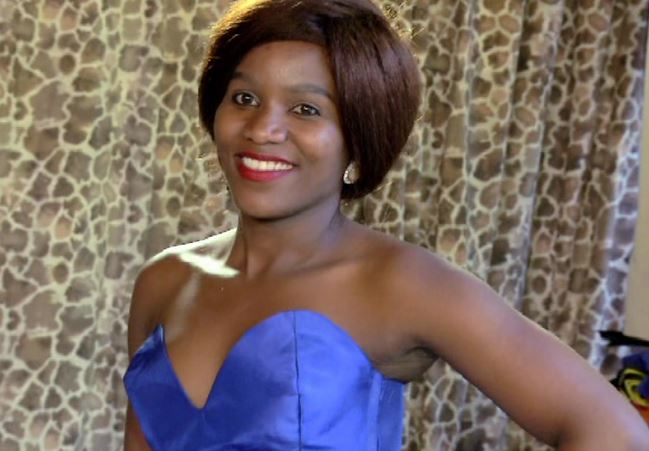 The groom wasn't half bad with his blue and black suit, it was better compared to what we have seen in the past.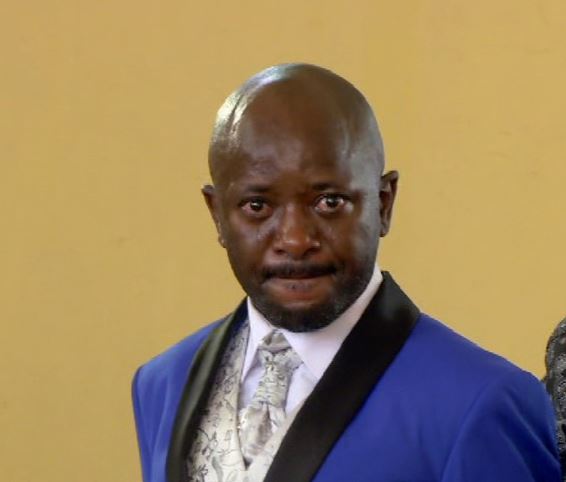 When we saw one of the groomsmen during the fittings, we breathed a sigh of relief because the suit wasn't shiny. Unfortunately, our excitement was short lived when all the groomsmen assembled on the wedding day clad in different shoes. Some of the guys wore blue, black and others went as far as wearing brown shoes. Was is it so hard for these men to stick to one shoe colour? It would have looked more appealing and well-coordinated. 
The décor and the cake weren't that bad, nicely done and not complicated, but it's unfortunate that we are biased towards this blue, silver and white colour scheme. Maybe if it wasn't used so much by people who promote these washing powders we would feel different?
The traditional wedding looked much better, in fact, it was the ultimate. The décor was still the colour combination we loathe but this time it was done differently and it was really beautiful.
We almost forgot to mention the bridesmaids' questionable nae-nae skills! It is good to know that we are not the only ones still struggling to master this dance move.
Out of ten, we give this wedding a seven. Had the bridesmaids' dresses been properly done, their weaves of acceptable standards and the groomsmen wore matching shoes, no doubt it would have been a perfect wedding.
Image Credit: Facebook