In celebrity blank stare news today, we're sure by now you've managed to witness the awkward performance on Saturday Night Live between Lady Gaga and R.Kelly.  If not, here's the scoop.
There's never a dull moment on Saturday Night Live and this weekend's show did not stray from the norm.  On Saturday, controversial R&B veteran, R.Kelly and Pop icon Lady Gaga heated up American television screens with their duet of Lady Gaga's recent single Do what u want.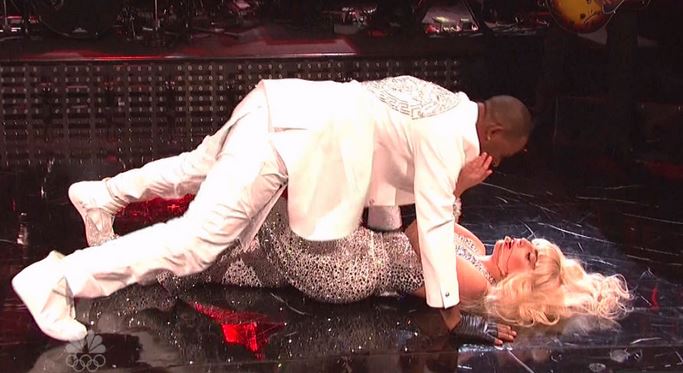 By the looks of things R.kelly did whatever he wanted with Lady Gaga's body, hoisting her over his shoulders and even doing a couple of push ups on top of her.  The performance was a little odd and to be quite frank the ZAlebs team didn't know whether to snicker or cringe at the performance. Don't get us wrong this song promises to be a great success on the radio charts but there was just something so calculative and hilarious about the entire spectacle.
Before we say too much and spoil the performance for you, why not have a look at the video and let us know your opinion of the performance.  
Sidebar: We're quite surprised R.Kelly could even pick up Lady Gaga.  This comment has nothing to do with her weight but has everything to do with his age, but like the saying goes "Black don't crack."
What did you think of R. Kelly and Lady Gaga's ridiculous performance? Leave us your thoughts in the comments below!