This week's bride really understands the term patience better than most people. Thembi, 45, was a side chick for almost 20 years before walking down the aisle. The only other person who has displayed such patience is Morgan Tsvangirai, hoping to be Mugabe's successor.
Nonetheless Vusi, 59, decided to put a ring on it when his first wife passed away, making Thembi's wait worth it.
Thembi said she wanted a spectcular wedding that would leave everyone talking, and, boy, did she leave us talking with her poor choice of colour mash-ups. We're still recovering from those cringe-worthy groomsmen suits and the blinding yellow bridesmaid dresses.
It's clear that Thembi was excited and she went to great lengths in planning her wedding, and money didn't seem like an issue. Unfortunately, we are totally against Thembi's decisions, or lack thereof.
Let's start with the dress, it was generic. If had she done more research she would have come out with something better. That's why it's always imperative to invest in a wedding planner.
Even some of our readers were not impressed with the dress:
@Zalebs #OPW uhhmm.....would have been the appropriate gown...if this was the 90s.

— GodsGiftToManKind. (@EugeneGeezy) September 20, 2015
The bridesmaids? They were a total joke. Their yellow dresses were awfully designed, they were oversized and hideous. We're still trying to understand why nobody ever said anything to Thembi concerning the dresses, even the bridesmaids. How can they agree to be seen is such outfits? 
And why would you choose yellow and maroon as a colour scheme for your wedding? Because of these colours, the draping looked like it was prepared to cater for members of a political party during a rally. It was a mess!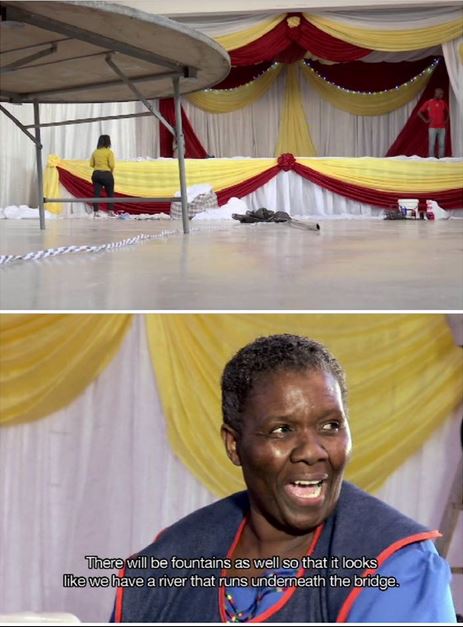 The most comical moment has to be when we saw the groomsmen's suits. It was just an unbelievable sight. They looked like concierges, if not a bunch of school boys. How can you choose such colours and still expect to have a spectacular wedding?
These guys miss school. #OPW pic.twitter.com/C1iubzcXac

— Khaya Dlanga (@khayadlanga) September 20, 2015
The only thing which we really loved watching was the cute flower girls - they looked very adorable. Quite frankly, they were the only ones who held it together so far. Also, Sis' Junior made our night, she really enjoyed the cake tasting session.
Mmmmm taste so good!
It seems like it's customary to have that one relative who during the speech will advise the couple on the issues of sex. We find that very unnecessary, especially if they are veterans like Thembi and Vusi. How dodge was Thembi's sexual innuendo's with regards to the kiss? Even Boity was taken aback by that comment.
This woman is so vulgar. Ao bathong??! #OPW

— #LEGiTxBOiTY (@Boity) September 20, 2015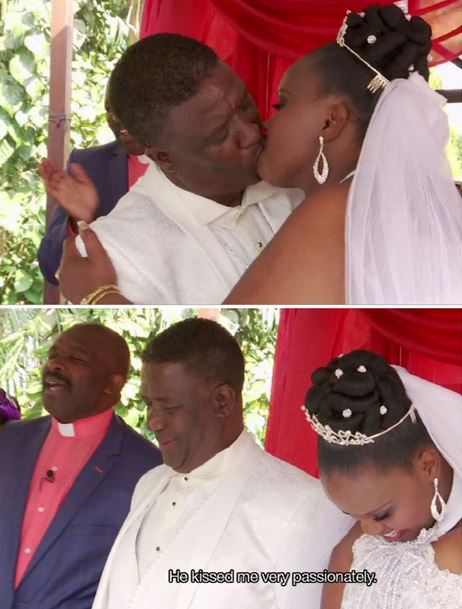 As always, the traditional wedding was far better than the white wedding. The colours weren't crazy and the outfits absolutely beautiful - even the groomsmen looked handsome in their traditional attire.
We will score this wedding a five. We understand they took efforts to plan their wedding, but, unfortunately, their sense of fashion is a tad challenged.
Image Credit: Facebook