We live in a very difficult-to-please generation, don't we? For instance, a few months ago when Avril Lavigne shot her music video for her single, Hello Kitty, most of the internet thugs slammed her for stereotyping Japanese culture and labelled her a 'racist'. You'd be forgiven for never, ever thinking that Taylor Swift would fall into this trap- yet, here we are debating whether or not her new music video is racist! 
We don't think it is. We've watched it twice, and aside from some silly scenes with twerkers in the background (Even Taylor Swift can't avoid the Twerking fad) there is nothing that could be even remotely racist. That is unless you live in a world where Twitter, Facebook, YouTube, Google and the Internet are king; then you're in trouble. Oh, we live in that kind of world? 
The video tries to capture various forms of dance. From ballet and contemporary dance to hip hop and break dancing (Naturally the twerkers featured in the latter category). Odd Future rapper, Earl Sweatshirt, took to Twitter to say this: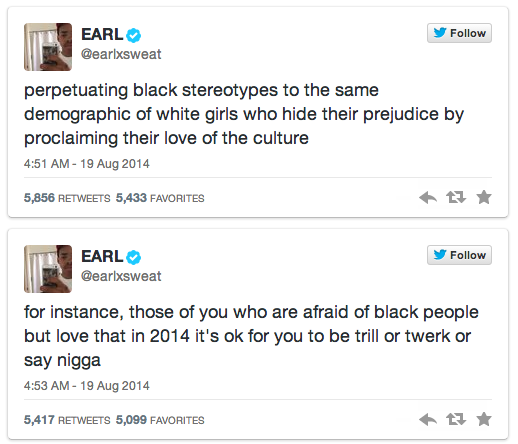 Er, we're not so sure. Maybe it's because we (in South Africa) have a very different idea of what is and isn't racist, but we don't think there's anything racist about this music video. Is it not possible to hop onto a trend and display it in your music video without being labelled a racist? We could nit pick all day, but the reality of that is then almost every single music video on earth could be labelled as racist. 
Anyways, taking all of that nonsense aside; the video isn't all that amazing, nor is the single. Without any extraordinary musical talent or creativity, Taylor Swift has remained a mainstay in commercial pop music ever since she burst onto the scene in 2007 with her blend of country/pop breakup songs. She's grown into an artist in her own right, but her new single, Shake it off has left us feeling a little underwhelmed. She also announced her new album, which will be releasing on the 15th of October, and we hope there's better tracks on it than this one. 
If you enjoy cliched dancing montages, then this music video is for you. If you don't then watch it anyways and tell us if you think it's racist or if you think Americans are just too darn oversensitive!