Shocking images of a battered and bruised Lizelle Tabane who is engaged to soccer star, Teko Modise have surfaced, fuelling speculation that the soccer star has been physically abusing his wife. Sunday Sun has revealed two images, taken two years ago of Lizelle who looked in bad shape after sustaining a bruise on her left eye, a bleeding nose and blue marks on her neck.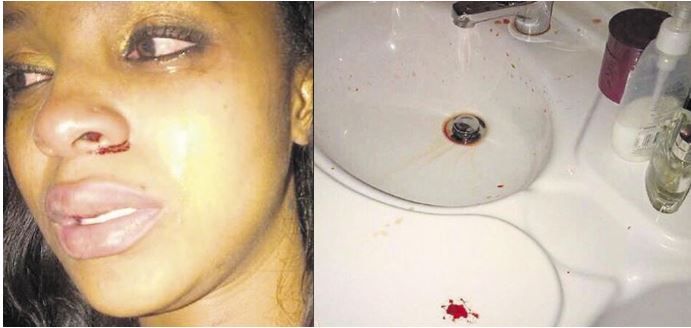 A police officer who spoke to the publication confirmed that he was one of the cops called to Teko's house last year after a more recent incident had taken place.
"Lizelle claimed her husband was beating her for no reason. But when we got there, she quickly changed her mind." Said the Roodepoort police officer.
Apparently this is not the first time Teko has reportedly laid hands on his woman. An anonymous source who used to date one of Teko's fellow soccer players claimed that they used to advise Lizelle to go to the police whenever Teko began with his abusive ways.
"We told her to go to the police, but she made excuses for him."
The source later claimed that Lizelle had not complained in a while.
"Well, we're no longer friends, so I don't know what's happening. Maybe he's stopped -  or she's stopped provoking him."
Stopped provoking him? Surely that's no reason to beat up your woman now is it?
Without Teko's knowledge Lizelle took these pictures two years ago and kept them as evidence. The anonymous source further explained that Lizelle would tell them about Teko's numerous abusive incidents, one so brutal that it left Lizelle with a chipped tooth.
"Sometimes she would tell us he would just get angry and punch her. She once called me, afraid that he would kill her. Lizelle told us that on the night of the last incident one year ago, they had just come back from a night club when he started punching her. He then pushed her to the floor and she chipped her tooth." Claimed the source.
It's also interesting that the news of Teko's abusive ways comes two weeks after he revealed the launch of his new clothing brand titled The Fashion Don.
The Sundowns player took to Twitter, clearly having heard the news of his alleged abusive ways: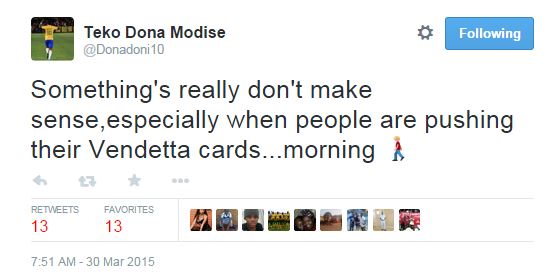 His supporters, sent him messages of support, advising him to overlook what is being written about him in papers.

Teko, joins another soccer player, George Lebese who was also accused of assaulting his girlfriend last month and was granted a bail of R 1000.
Should this Teko Modise story be taken lightly, or should police be investigating him further?