Third-place
Love Island SA
finishers Xavier Haupt and Mischka Najar have tied a knot, well at least that is according to the pictures that Xavier shared on his Instagram stories.
The pair has not officially announced that they are married but when a fan asked Xavier to share a picture of him and his wife, He posted a picture of him and Mischka in front of the Western Cape High Court.

In a picture he is wearing a formal suit and Mischka is wearing a wedding gown holding beautiful flowers. This is after Xavier did a Q&A on Instagram asking his followers what pictures they wanted to see.
Xavier and Mischka came in third place on the
Love Island SA
with 12% of votes, after Millie Terblanche and Asad Boomgaard with over 30% votes and the winners of the first season of Love Island SA Thimna and Libho.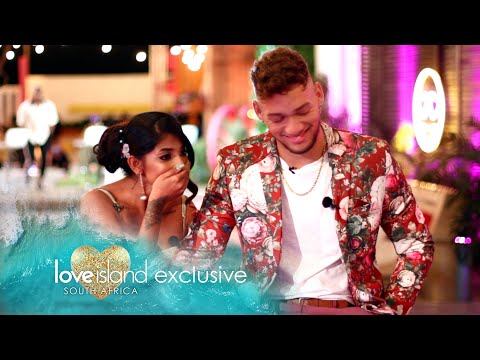 The couple said they left the villa with true love.
"We feel great, if anything we've left the villa with true love and that's what truly matters. Even though we came third, the money didn't mean much, it seemed as though we feel like we've already won our prize...We wouldn't change a thing! Not a damn thing."
Another Love Island couple that recently announced that they are taking their relationship to the next level is
Thimna and Libho.
The couple has moved in together and also started their couples YouTube channel titled Life With Limna.
They announced the exciting news with an intro theme video of their channel on Instagram. Libho posted a video with a caption that read: "Here's the intro theme video our YouTube channel #LifeWithLimna , hope you like it."
They have posted one video so far and, the video currently has over 100K views on YouTube, their channel is sitting on over 21K subscribers.


Introducing the cast members on Twitter, the show wrote: "Introducing ten tantalizing Islanders Got a favorite already? Too soon to tell? Carry on watching tomorrow at 21:30 on @MNet #LoveIslandSA."
The show, however, received a lot of backlash. Viewers were complaining about the lack of diversity on the show.
Mnet eventually released a statement apologizing and also promising to fix the concerns raised by the viewers.


"You called us out on the lack of diversity and production quality in our first episode of Love Island SA. We're sorry- we didn't meet our usual standard on both counts. We are working tirelessly to fix things, and to deliver the Magic you deserve,"
wrote the show on Twitter.
Read Next:
Cassper Cancels The Highly Anticipated Match

Image Cred: M-Net