Ludacris got hitched faster than you can say "Luda!" just a few days after proposing to his girlfriend of 6 years.
In a caption that accompanied a photo of him looking lovingly at his new wife, he wrote, 'Why wait? Did the thing before 2015. #mrandmrsrbridges.'
The beautiful Eudoxie looked stunning in a floor-length white halter dress that Ludacris' mother had picked out. She held a bouquet of pastel colored flowers while the fast and furious actor wore a black suit with white shirt and no tie.
A source said Christopher Brian Bridges formally known as Ludacris, proposed while the couple was on board a private jet. The Fast & The Furious star took Eudoxie out to dinner at a restaurant in Georgia to celebrate that night. When the cute couple returned home the sexy 28-year-old found a wedding dress draped over a piece of furniture, which had been chosen by Luda's mom.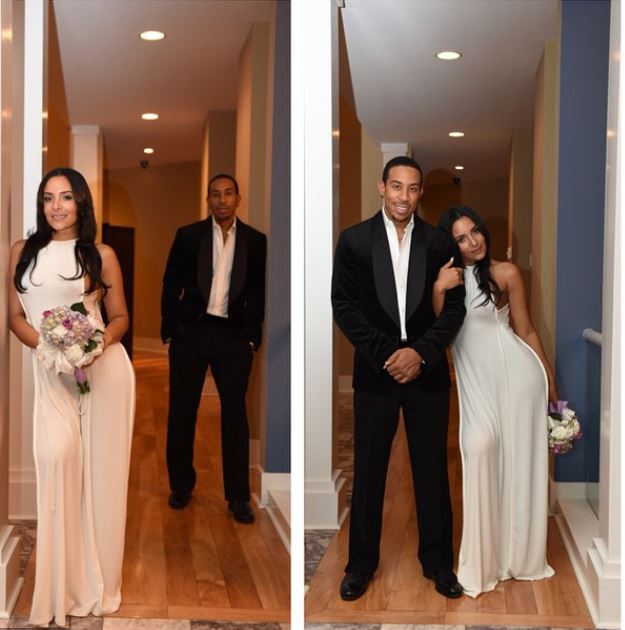 The insider told gossip website TMZ.com that while she was very surprised by Ludacris' plans, she agreed to marry him on the spot in front of a few close family members and friends.
Ludacris confirmed he tied the knot by posting a photograph of himself wearing a black suit and Eudoxie in a stunning wedding dress on Facebook on Tuesday.
Chris has two daughters Karma, 13, and Cai Bella, 12 months, from previous relationships. Currently, the married couple are enjoying their honeymoon in Costa Rica.
Credit Image:Instagram.Eudoxie