Somizi Mhlongo
and
Mohale's
marriage has been placed under careful observation by social media users. Some who wish they could end things but many are hoping the two
reconcile.
Read more:
Somizi And Mohale Join Hands
Now, the current state of their marriage has not been officially addressed by the two. As many would expect looking at
Somizi's star power,
a statement from the two would lay all this to rest. But, they just continue to add fuel to the fire. Be it for their own personal gains or perhaps they are teaching people how to mind their own businesses.
Whatever the case may be, social media users are having a field day with the couple and it is not a pretty sight to see.
Thanks to good Photoshop skills, a troll had many fooled after he or she posted a very convincing screenshot of a conversation supposedly between the estranged couple.
"For the record! Scammers and abusers are two totally different things. I'll stop there,"
a tweet by
Mohale
read. Responding to him was his estranged husband who said "Wena uzonya," and then cussed him out.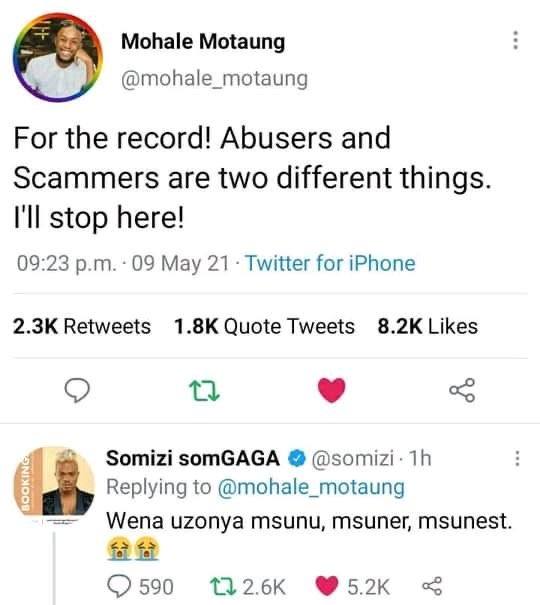 Obviously the tweet looks pretty convincing, but it is absolutely FAKE. This was confirmed by
Somizi
who slammed the person, or people who photo shopped the conversation.
"Shemmmmmm maan talk about reaching.....this is malicious but I'm glad we have a platform to correct it.....both tweets are fake," he confirmed.
Mohale's original tweet was addressing the AKA and Nellie Tembe saga which shook the whole country as it is still trending at this very hour.
He wrote, "Abusers and making it look like you are the crazy one when they know exactly what they do to you behind closed doors."
Like we said previously, both parties have not released joint statements about their marriage but
have addressed rumours separately.

In an interview with
Power FM
, Motaung had this to say,
"Me and my husband Somizi Mhlongo Motaung, hmmm, We are fine, we are okay,"
he said
"I think that is okay, people decide in a relationship that this is how we gonna do things, this is the route we are going to take and it is okay. I saw people talking about divorce and I was like what? Show me, where are we divorcing.

"Sometimes I go on social media and someone would say you are trending, and I would be like these people are talking about something that I do not even know or that I have never been introduced to. I don't know anything about the divorce and moving out of the house, I don't want to lie,"
he concluded.
Read next:
Boity Defends Her Mother
Picture credit: Instagram