Coined with the first democratic elections of South Africa in 1994,
Basetsana Kumalo
was crowned Miss Soweto and
Miss Black South Africa
. Kumalo was the second Black woman to have won the title after Jacqui Mofokeng paved way for black beauty queens in the country.

Basetsana Kumalo is a South African businessperson, philanthropist, TV personality, and beauty pageant title holder.

She was one of the A-list celebs to have scored an invitation to Somhale's wedding and she took her crown along like the beauty queen that she is.



Here's more about one of South Africa's beauty queens, Basetsana Kumalo.


Basetsana Kumalo Age

Basetsana was born on the 29th of March 1974. She will be 46 years old next month.

Basetsana Kumalo Family

Basetsana was born to Philip Makgalemele and Beatrice Makgalemele. Her parents passed away in 2003 (father) and 2006 (mother) respectively. Philip Makgalemele used to be a bus driver while his wife was a schoolteacher. Basetsana Kumalo's family also includes her two sisters as well as a brother.

Basetsana Kumalo Education

She went to Thabisang Primary School in Orlando West. When Soweto was engulfed by student unrest in 1986 she was sent to Trinity Secondary School a school in Lenasia, an Indian suburb south of Johannesburg. She then went to study at the University of Venda and this is when her mother entered her for the Miss South Africa beauty pageant.

Basetsana Khumalo Career
Kumalo became a presenter of
Top Billing
. During her time with Top Billing, she formed a close relationship with Patience Stevens, the show's producer. The duo formed a company, Tswelopele Productions, with Kumalo owning 50 percent of its equity.
In 1999 Tswelopele Productions merged with Union Alliance Media (UIM) and listed on the Johannesburg Securities Exchange (JSE). This made Kumalo one of the youngest black women directors in the country's entertainment industry.
Top Billing
brought more projects to the Tswelopele brand. This included an Afrikaans magazine programme on SABC2, Pasella, a youth television show in Siswati on SABC1, Seskhona, and a morning breakfast show on SABC3,
Expresso
.
Her exposure on television and glossy magazine covers led to a wealth of endorsements. Kumalo became the face of Revlon's Realistic Hair Care range for both Sub-Saharan Africa and the international market, serving as spokesperson for five years. She then owned an eye wear range distributed through Torga Optical eye care named 'Bassie'.

Her sense of fashion was daring but very sophisticated. She then saw a gap in the fashion market and started a clothing range through the Ackerman's brand. 'Stature Ladies' wear by Bassie' was distributed in over 240 outlets in Sub-Saharan Africa. The brand has since been discontinued.

Bassie recently released her memoir which is definitely a must read. She says that writing that memoir felt like going to therapy. She even expressed her gratitude to the team that helped make it a reality.


Basetsana Kumalo Brand Ambassador

In 2008, Basetsana had the privilege of becoming Lux's brand ambassador. As if that was not enough, in 2018 Lux South Africa asked her to be their brand ambassador again.

Basetsana Kumalo Relationships

she was already romantically involved with World Lightweight Boxing champion Dingaan Thobela. Kumalo's relationship with Thobela was extremely taxing for her. There were allegations of abuse in their relationship – which became public. This she confirmed in her interviews with several magazines and publications.

At the peak of her business career, she dated Romeo Kumalo, former SABC broadcaster and Vodacom executive.



The two had met in her time as Miss Soweto and started dating in 1997. Romeo and Basetsana were married in 2000. The highly publicised wedding was attended by the A-list of South African celebrities.


Three years later she gave birth to their first born son, Nkosinathi Gabriel Kumalo. Their second son uShaka Kgositsile Emmanuel, was born in 2012. Her daughter Bontle ba Morena Jasmine Kumalo is the last born.

Basetsana Kumalo Charity Work
Kumalo and her husband Romeo have launched the
Romeo & Basetsana Kumalo
Family Foundation, which is aimed at developing children, specifically those orphaned by AIDS and other related diseases. Kumalo joined actress Selma Hayek in the bid to eradicate neonatal and maternal tetanus in the world, as spokesman for the United Nations Children's Fund and nappy brand Pamper's campaign to save more than 250 million infants by 2012.
In 2007, former first lady Graça Machel, a champion of the Each One Reach Five campaign, nominated Kumalo to be one of her five volunteers to take a public HIV test. She has also worked with the United Nations Children's Fund, Each One Reach Five campaign, Agang Sechaba, and Baragwanath Children's Hospital. Basetsana is also a volunteer for a project to give back to hometowns.


Basetsana Kumalo Controversy
As if she didn't have enough to deal with, in 2018, J
ackie Phamotse tweeted about over-hearing a conversation
between one of her friends and a well-known TV mogul. In the tweet, Phamatose mentioned that she heard the TV mogul pleading with her friend to not release a video of her husband (Basetsana's husband, Romeo) in a compromising position.
All that was not true and Bassie even says the hardest time she's experienced in her life was having to sit down her son and explain what was going on.
Fast forward to 2019,
Basetsana was labelled as condescending for an interview that she once had with Zozibini Tunzi
. This interview was took place during SABC 3's presenter search and during the interview viewers, was totally cringe-worthy and not a powerful moment between two beautiful black women. See the clip below and judge for yourself.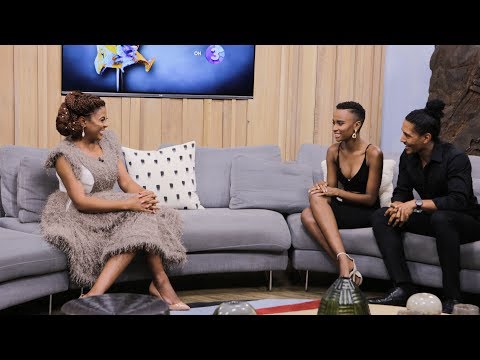 Although she expressed her disappointment in social media and how they had labelled her, she later came out to clear the air on that
she had no ill intentions
.
Besides having her fair share of drama in the public she continues to keep rising and for that she gets a thumbs up from us.
Read next:
Atandwa Kani Biography: Age, Family, Education, Career, Relationships, Controversy, Net Worth
Sindi Dlathu Biography: Age, Family, Career, Muvhango, The River, Television Roles, Controversy


Main image credit: bizcommunity:com