Mommy-to-be DJ Zinhle has been kind enough to keep us updated about her pregnancy. Lots of curious fans have been asking her questions on a regular basis, wanting to know how the baby and the pregnancy as a whole is going. Like Zee wrote yesterday, certain celebrity couples do a great job of keeping their private life private, while still managing to update their fans like Lungile and Bobo, and more recently, DJ Zinhle have all done. 
The DJ and businesswoman, who's expecting her first child with rapper AKA, is now 23 weeks preggers. She shared a snap of her bump on Twitter and got some of her fans excited. Some wanted to know how it feels, while others congratulated her.
We love how both Zinhle has been keeping us updated about her journey to parenthoood.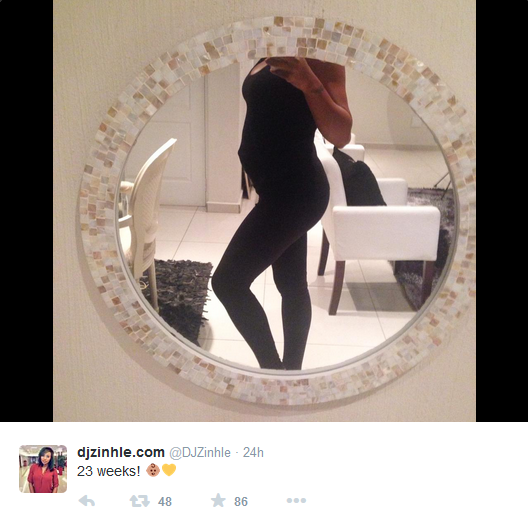 Although she's shared her journey so far, Zinhle, who had success with her Pink Revolution Conference recently, is yet to reveal her baby's name. For now we'll call the child #DoroBaby or #BabyForbes. That's cute, right?
Zinhle is obviously not the only one who's excited about the pregnancy. In an interview with Destiny Magazine, Zinhle described the AKA as a sweet person and also shared his excitement about the baby. "He is so excited about the baby – I'm so proud of him and how he's handling this."
How cute is DJ Zinhle's baby bump?