It has been days
since the passing of Amapiano stars
Mpura and Killer Kau, along with their friends Khanya Hadebe, Thando Tot and TD. Their careers were taking off and they still had a lot more planned in the industry but all of that came to an abrupt end when they got involved in a fatal car accident.
Read more:
Identity Of The 6th Person Who Died From The Accident Revealed
According to
Sunday World,
Mpura, real name Mongezi Stuurman was planning on thanking his ancestors for his successful career as an
Amapiano musician.
His grandmother, Gogo Babe Blaza Stuurman, had revealed this information, saying they had drawn up a list of all the things they were going to need to make traditional beer. That was the last time she saw him.
"He then hugged me and told me that he loved me and promised to see me again when he brings the things I told him to buy. Little did I know that I was seeing him for the last time," she told the publication.
Mpura's funeral will take place on Tuesday at the Westpark cemetery.
This past weekend, Khanya Hadebe was laid to rest on Saturday, August 14.
Uncle Vinny
, who was one of Khanya's friends, attended the funeral. He said a few words about Hadebe, saying he taught him how to be confident.
"It's very unbearable to think that all the dreams and the ideas you had and were about to launch to change the game. Personally, you taught me to be very confident and never allow anyone to bring me down. I remember my first gig. You were so proud of me. You told me it was only the start and indeed, it was the start," Uncle Vinny was quoted by
Daily Sun
.
Killer Kau, real name Sakhile was laid to rest on Sunday, August 15
and it was also a touching send off. His grandmother was visibly heartbroken but she was vibing to her late grandsons music.
At the funeral Euphonik was acknowledged as the person who helped Killer Kau's career blossom. Together they created his very first hit called Tholukuthi Hey.
At the funeral Killer Kau's uncle, Remember Khumalo, revealed that he lost his mother and brother in the same way Killer died. "I never thought I'd have to say rest in peace to Sakhile or one of my nieces or nephews. I thought they would have to say that to me.
"What hurts me the most is how Sakhile's mother passed away. It was terrible. It happened again when his brother died in an accident. I thought they would try to break the cycle so it doesn't happen again in the family. Today, we are seeing it again. Why it keeps happening in the family, I don't know."
Killer Kau has three other brothers, and three sisters. They all said a few words about their brother. His youngest brother Siyabonga said Killer taught him love, "Bro, all you taught me is love. You've played a whole lot of different roles in my life. Thanks for everything you have done for me and for being there for me. No-one else can take your place in my heart. I will miss you."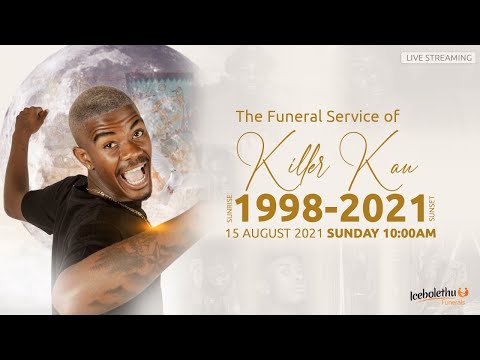 Read next:
Car Accident Claims Ukhozi FM's Msizi Nkosi
Picture credit: Twitter