These are some of the
condolences
on
Twitter
:
"In life you NEED just one friend who will be brutally honest with you. Msizi was that guy. Nothing personal but you know if you got a view from him good or bad it's genuine. It's not coming from a place of hate. Sense of humor galore. I will miss you dawg"

Andile Ncube said, "I can imagine abo size 34 bayakhala ngawe. Thank you for inking our adventures in your book (still embarrassed my mom had to read that about me) Makhaya from a little known place (Harding) to carving an unforgettable mark in a tough industry, You did it your way"

"I'm very shuttered waking up in yet another sad news. Ngempela ziyohamba izinsizwa kusale izibongo. This year is teaching me to live every day of my life without fear because tomorrow is a mystery. Rest in peace Msizi""My early days on TV were as a weekly contributor to Take 5 on @Official_SABC1. I met and worked with stars of the industry there, including one producer I used to travel with after work - one I grew to admire and respect"

"Go well homie, some of us observed your wisdom from a distance. Harding is truly proud of the person you were. Till we meet again"

"Here is my suggestion, delay nothing. If you love him and want him as your husband, go. If you need to end that relationship, go. If you want to shoot a movie, write a book, confess your truth, start a business, whatever that is important to improve your life experience, just do it. That way when your time is cut short here on earth, we can be comforted by the fact that you lived it fully. Rest well, my friend Msizi Edgar Nkosi. I don't even know what to say anymore. This period in our lives is filled with goodbyes. We will see you in the morning."


Ed King Lifestyle
confirmed
the news yesterday in a
press release
. They said,
"It is with great sadness to inform you of the untimely passing of our beloved and admired brother, friend and colleague, Mr Msizi Edgar Nkosi"


Msizi
passed
on yesterday, 15 August 2021 in a fatal accident in Richard's Bay that he unfortunately did not survive.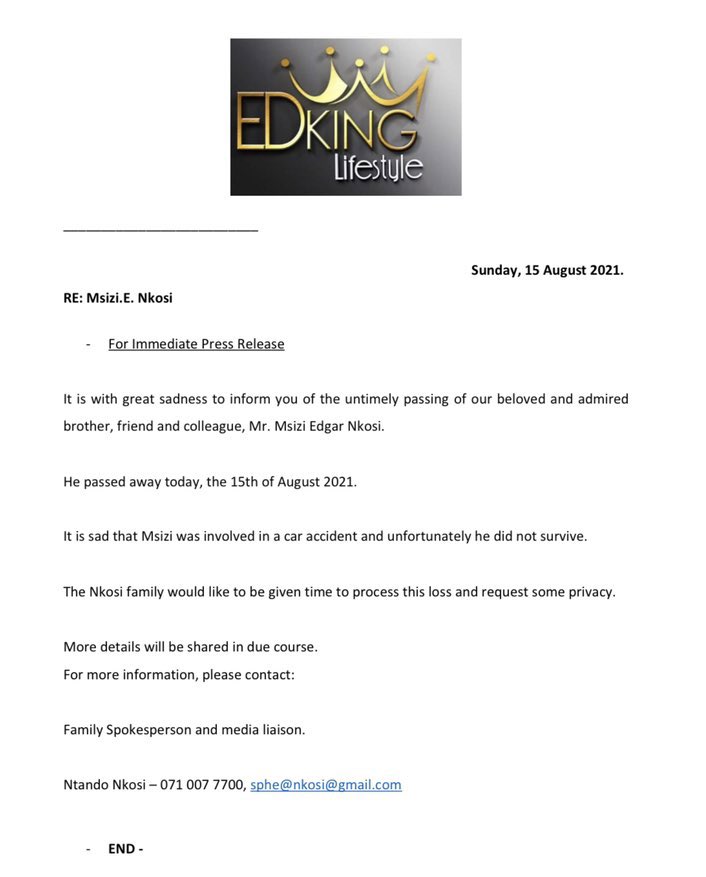 "What a loss!!! He was always so kind and supportive of my work. May his soul rest in peace!"
Speaking to
Daily Sun
, the family spokesperson Ntando Nkosi said,
"The accident happened on Sunday, 15 August during the day but we only got the news in the evening at about 6pm. The accident happened in Richards Bay and the information had to go via the Johannesburg office. We were later informed by his girlfriend later in the evening

"Our understanding is that he was shooting a reality TV show in Richards Bay. He and his crew had finished in one location and were going to another location in the Richards Bay area. Unfortunately, another vehicle collided with their car."

Msizi left behind his five children.
Read Next:
Max Lichaba Reacts To Step Son's Diss Track
Main Image Credit: Twitter