Mampintsha's final send-off is being held at the Inkosi Albert Luthuli International Convention Centre (ICC) in Durban and is attended by family and friends.
The 40-year-old singer who was a member of the award-winning group Big Nuz, died after being admitted to King Edward Hospital in Durban, KwaZulu-Natal over the weekend after suffering a mild stroke.
Mampinstsha had an illustrious career. The singer burst into the music scene in 2002. The singer is best known for his role in Big Nuz and for going solo after the group split in 2015. Some of his hits include Umlilo, Sduku-duku, and Ngeke.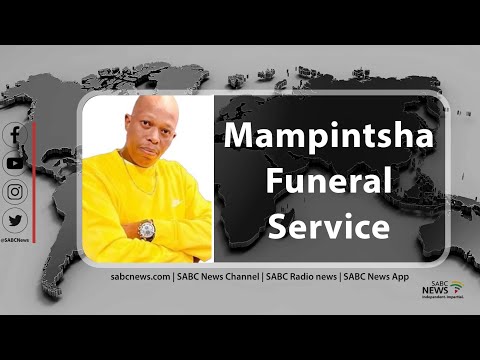 Confirming the news of his devastating passing, his family issued out a statement. "Husband, father, musician and West Ink CEO Mandlenkosi Mampintsha Maphumulo has died," it said.
"Details of his passing cannot be shared with the public, The family of Mandlenkosi Maphumolo, aka Mampintsha, as well as the West Ink team, has asked for privacy at this difficult time, and will release a statement in due course."

His family dispelled rumors that Babes Wodumo found out about his death on social media. This comes after a Newzroom reporter reported on this "She said everything looked well, they actually thought he will be discharged on the 24th on the day that he passed, but unfortunately she woke up to social media to people saying that he had passed. The story told by the family is the one of the nurses of the ward is the one that broke the news to certain people, and that how word got out, and the family is very unpleased with this how unfortunate to find out through social media, and that's where they saw very distraught Babes Wodumo who couldn't even contain herself because of the way she found out. The family is also making appeal to the public as a whole to hold up from breaking such tragic news whenever anyone else passes or is dead until confirmed by family first," the reporter said.

The family's Family spokesperson Zandile Maphumulo said "As ubaba had already mentioned, both families were there at the time of his passing. We don't want to entertain external forces or news that we don't understand," said Maphumulo.

May his soul rest in peace.

Image Cred: YouTube screenshot