I really do like Maroon 5. Adam Levine and the boys have mastered the art of longevity, and regular readers might remember that I've said in the past that bands such as The Script could really learn from Maroon 5. 
They've kicked off 2015 in spectacular fashion by releasing one of the most talked about music videos of the year so far, for their single, Sugar. I'm not usually a very soft person (Yeah right, says the guy who listens to Taylor Swift openly!) but this video was one of the sweetest music videos I've ever seen. Maroon 5 band members went on the most epic road trip ever, making the occasional stop to (wait for it...) 
Crash couple's wedding days! 
The band rocks up at people's weddings behind a veil (excuse the pun) and as soon as the curtains drop, they begin performing for the bride, groom and guests (They do this several times) who are all shocked, amused and in some cases, speechless! 
Have a look at the video below, it really is cute on a variety of levels. 
Is the video real though? 
Many people who decided that they weren't as fond of the music video as I am (And to be fair, I'm joined by 10 million other viewers) decided to question whether or not the video was real. We've all been told that the band was crashing REAL weddings after all. But let's look at both sides of the coin to decide
Why it could be fake
For starters; do you mean to tell me that in 2015 (Or 2014 if the video was shot more than two weeks ago...) nobody can whip out a smartphone and capture one of the biggest bands in the world? 
A lot of the reactions do look a little "perfect" and the video itself looks very polished up. Everyone is standing in the right place, cameras are well positioned, and this is one of the biggest problems that a lot of people had. I can see the basis for an argument as to why it could be fake, but it's a little light.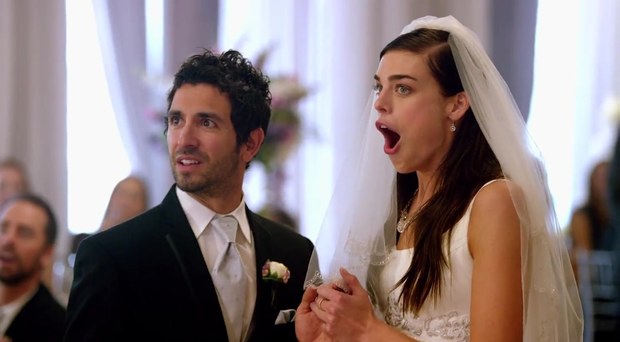 Why it could be real
When you first watch it, it looks pretty real. The brides, especially, are flabbergasted when it's revealed that Maroon 5 is performing at their wedding. 
You also need to consider that this probably took weeks of organisation and a band like Maroon 5, who probably have a budget the size of King Kong, would have the resources to set this up at different locations and ensure it ran as smoothly as possible when the band rocked up. 
What I think
I think it was real; just a "polished" real. I've been on the sets of reality TV shows and I know that even the most spontaneous moments can still be directed, so to speak. Permission was probably obtained beforehand and then the band showing up would have been a surprise for the bride, groom and majority of guests. There was probably a director on-set who, when the band showed up, encouraged everyone to get up off their seats and dance. 
What do you think?
This debate could go on for a while, but after watching the video, do you think it's as real as Maroon 5 are saying? Or have we all fallen for one of the smartest music videos in a long time?