Beauty influencer and CEO of
Malakyt SA
Mihlali Ndamase
has slammed rumours that she accepted a hand-me-down from her boyfriend.
Sunday World
reported that
Mihlali's boyfriend,
was ordered by the court to give his wife, her Range Rover Autobiography back. The same Rover he had apparently gifted to Mihlali Ndamase.
Read more:
Boyfriend Ordered To Take Back Wife's Range Rover He Gave To Mihlali
Taking to her Instagram stories, Mihlali slammed reports that she would accept a car that was not intended for her. She says she drives a Benz and has a lot of cars at her home for her to accept a used Range Rover.
"Can we just take a moment to chuckle at the fact that dead news publications tried so hard to drive the narrative that I accepted and was driving a car that doesn't belong to me? I'd leave my beautiful baby Benz and the cars at home to settle for a used Range Rover like I'm desperate," she wrote.
She even said she is a woman of standards and will maintain those standards, "I am a woman of standards and I will maintain that standard baby. Nizonya when I buy myself a Bentley," said Mihlali.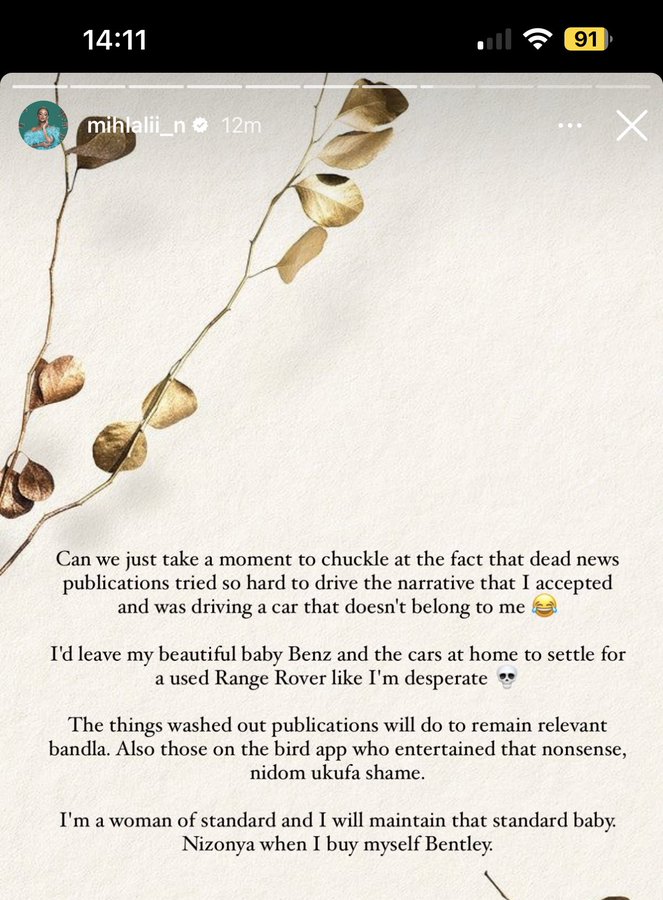 Mihlali's rants come after weeks of trending for all the wrong reasons. Her brand has been tainted numerous times especially since she is in a relationship with Leeroy Sidambe.
She slammed Musa Khawula who refers to her as MJ Lite and said he has a personal agenda against her.
"I'm not in the business of explaining myself and responding to bs even when a false narrative is being pushed because I know my truth and my work speaks for itself but the moment you start attacking my loved ones it's personal. I signed up for this but my family didn't, the least you can do is leave my parents out of my mess. Clearly, it's not about blogging anymore it's personal. @khawulamusa let me educate you and others since you lack information on who I am, and where I come from," she stated.
Mihlali says she has been exposed to luxury cars since she was young and money is something she worked for since she was 20 years old.
"With all due respect since y'all give men too much credit: Cars? Been exposed to luxury since birth. I was dropped off and picked up from school in Mercedes from pre-primary. My first car was a Mercedes, I bought my mom a luxury car at 22 years old. I've never accepted hand-me-downs because I never needed to. Zikhona imoto ekhaya."
She also says she started from the bottom and worked her way to the top.
"I try handle everything with so much grace but ke ndiyadikwa name. I'm driving so and so's car, dating a, b and c for financial gain like you haven't seen me build from the group up on my platforms. From vlogging in a cottage to a one-bedroom, two bedroom, three then house."
"Anyways this is the first and last time I give fools free airtime on my platform because my rates aren't cheap. As my mother would say "dogs do not bark at a stationary car they piss on it, so long as you're progressing in life they will bark."
Read more:
Mihlali Trolled For Saying She Wants To Marry A Rich Man
Image credit: ANMG