Beauty influencer
Mihlali Ndamase
was recently a guest on The Banques and Venom show on
YFM
and she opened up about her campaigns and how much she charges as well as her love life.
Read More:
Mihlali Finds Something Shocking In Her Car
On Her Biggest Deal
"I can't say. I don't get paid all the time, it depends. Like if it's an international brand I do get paid in dollars. And the biggest deal I've ever gotten? What is the biggest deal that I've ever gotten? You know when you starting out and you are excited by money and you ain't paying yo taxes child? I was like – okay I got an e-mail and now I need to get an accountant.

I can't say the brand because I've just signed with them. So there is something that I'm doing with a brand soon and they're giving me one bar. To post my content, product placements."
Mihlali also confirmed that she was charging 25k for a tweet in 2019.
Her Future Plans
One would think that will all the success she's attained; she would be relaxing but not
Mihlali.
She is now entering the business world.
"I'm still going to be in the same space but I'm definitely moving towards business. I'm launching my own products. But I can't give dates or timelines. It's very soon. I've always said I want my own products so I'm sure a lot of people know."
She added.
On Twitter Hate
"I sometimes there are things that people say which will irritate me. Naturally, I'm human – I have feelings. But, I don't necessarily cry myself to sleep over Twitter hate. I've already established that the platform is very negative and anything that I put out on Twitter you sort of – you sort of put it out knowing that there could be a positive or a negative reaction." She said on
the Twitter hate.
On Dating Lewis Hamilton
She also cleared the air on rumours that she was dating Lewis Hamilton. "
You guys believed it? You guys believe in me hey. Maybe I must DM Drake neh? Okay, so I was with someone in Singapore. And he is a very private businessman. Very very private. So I was getting a lot of questions around who are you with? And you know how if you are at a specific suit you get to go view the cars and the racers are there then you get to see them. We didn't get to see them, we just viewed the cars, so they're like oh my gosh – she's getting VIP treatment – so I was like let me run with it."
Said Mihlali.
Check out the full interview below.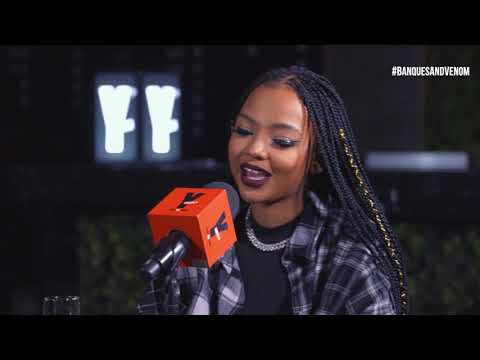 Main Picture Credit: Mihlali Instagram Account Mihlali_N
Read Next:
Nasty C Introduces His Sister