If there's one Zaleb who has fully embraced her body, it's
Nadia Nakai
and we are here for it. The rapper took to Instagram to share a video showing off her banging body and her followers can't get enough.
Reason
was so stunned that he said he'd be unfollowing her. That's how fire it is.
Read More:
Nadia Nakai On Why She Left Cassper's Record Label
Nadia
surprised the South African Hip Hop fraternity after announcing that he has parted ways with
Cassper'
s family tree record label. Nakai revealed that she is fully going independent and will be focusing on her record label. Initially, she was scared to tell Mufasa about her plans to leave but after she broke the news to him, he did not have any problem with it.
"I am no longer with The Tree. I am working on my own record label. I need to be able to stand on my own. Funny enough, I was actually scared to tell Cass. Even after I told him, I could feel that he was a bit sad, but we are good." She revealed to Slikour."He even suggested a few record label names for me to use... I will always hold Cass in the highest regard and respect because he's been very instrumental in my career and my life. I want to be able to get to a point where even when I have kids, I can still work on an artist and actively build their brand. I am a little bit scared but also super excited."
The businesswoman
also disclosed that things we, not the same between them after she made a guest appearance on
AKA's Braai Show.
The two did not speak for a while.
"After I did the Braai Show we didn't speak for like eight months so I got so used to not talking to him much."
Although she was signed under
Family Tree,
she did not have any problem with the guy.

"It was a decision I made for myself because I felt like I wanted to expand myself. I think people just felt like I automatically inherited things he (Cassper) is going through and that kinda trickled down to me and would affect me as well. Even though he is my brother and I'll always support him and have his back I felt like I needed to open up myself a little bit more because I need to be seen as someone who is platonic.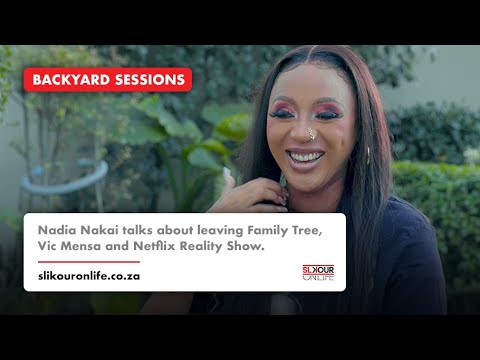 Nadia is currently in a serious with American rapper Vic Mensa.
The two started dating when Vic was in the country to shoot the music video for a track they did together. Although they live in two different countries, the two always make time for one another.
Main Picture Credit: Nadia Nakai Instagram Account @
nadianakai
Read Next:
Live Stream Shona Ferguson's Memorial Service