It came to our attention recently that Sade Giliberti is going to be one of 8 contestants on this year's Celebrity Masterchef. We normally consult with Sade for style, or even music advice (As we've done in the past!) but after finding out that she's going to be cooking up a storm on Masterchef, we figured we couldn't pass up the opportunity to find out how she feels she'll cope. Of course, we HAD to ask about her speciality dish too! 
Hi Sade and welcome back to Zalebs, how has 2015 been treating you?
So far so good. I feel like I've come back from holiday and jumped right back into the swings of things. i'm a little frazzled I won't lie. LOL 
We're not even in the second month of the year and we've already seen some exciting musical announcements in the local entertainment space. What's the secret to some of the big names SA has been able to rope in?  
Damn! What a question. I think people in SA are hungry to see International acts, and in the last year more so we have seen how SA has managed to bring those big names to the country. I think the secret is just bringing them out and bringing as many as possible a year as well. We've seen in the last year how much people will pay to see some of the big names and better yet have the best of the best local artists performing on the same stage as them too :) 
We kicked off the year by sharing some new music with our readers. Which artists (local or international) have caught your ear recently? 
Shortstraw and Toya Delazy (local)
Glass Animals - well they are my fave new band of 2014 (international)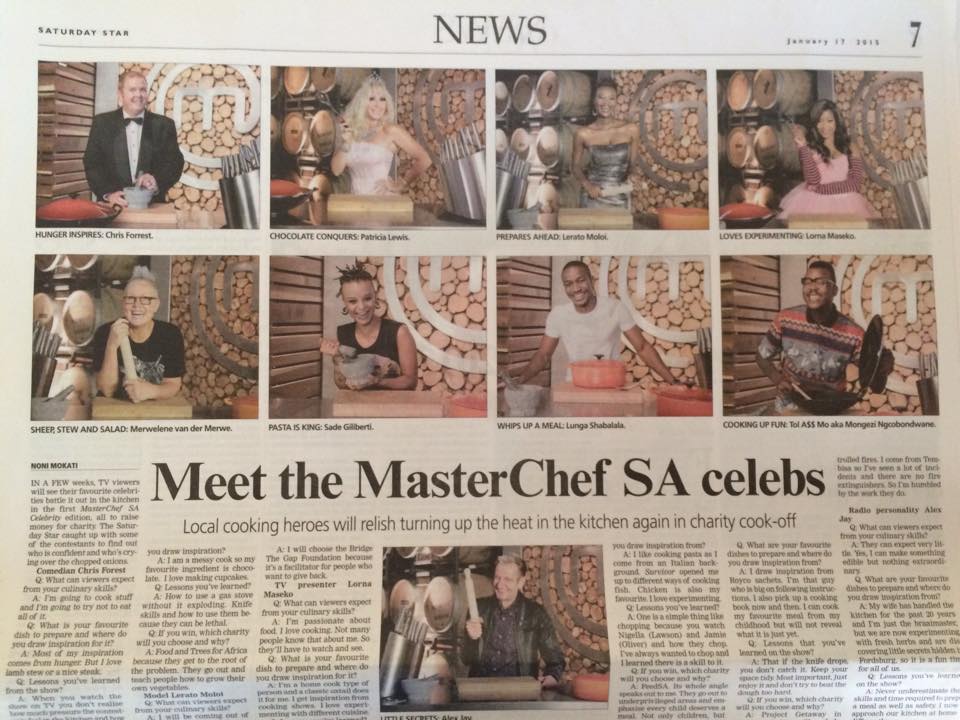 Shifting the topic entirely, we see you're going to be on Masterchef South Africa! What kind of Chef would you say you are? 
The kind that tries, fails, tries again and then succeeds [laughs]. I love cooking, but I'm no chef! I enjoy experimenting in the kitchen, trying new things and playing around with flavours. 
You'll be going head to head with the likes of Tol Ass Mo and Lorna Maseko. Who out of the other 7 competitors do you think will pose  tough competition? 
I think they all will actually. One can't judge a book by its cover, I think they all have secrets hidden up their sleeves. Terence looks like he can whip up a mean meal.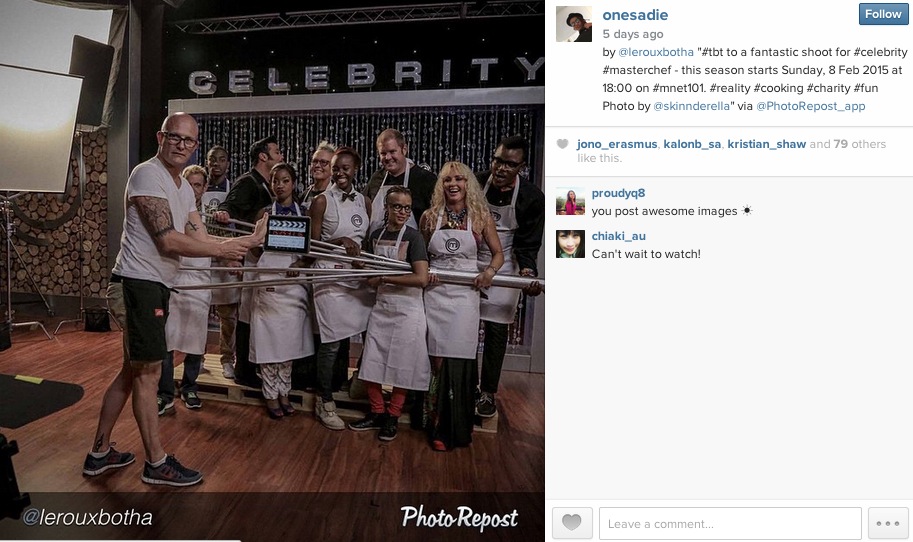 Not to give away secrets before you start cooking, but we have to ask; what is your specialty dish? (Mine is veggie burgers! :D) 
I make great fish... I do this stuffed calamari dish with a whole grain mustard mash. Tt works well. My seafood pasta is boss and I make a great chicken ballotine.  
Lastly, that gorgeous Mitsubishi in your Instagram *Drool*; please tell us it drives like a dream?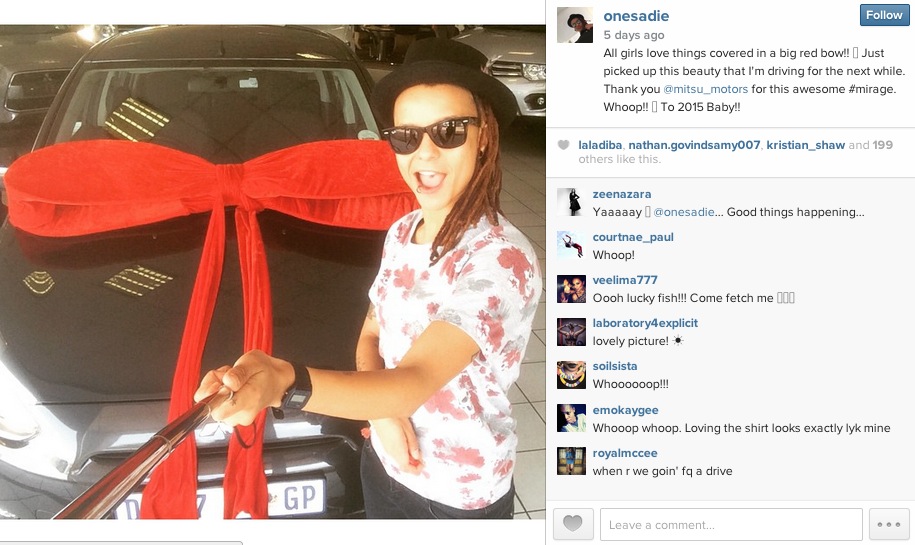 Listen, that car is the coolest thing ever. The Mirage drives better than a dream. So smooth, so eco, so cool. I am in love.  
We look forward to seeing Sade on this season of Celebrity Masterchef which kicks off very soon on M-Net. In the meantime, Sade, when can we come round for dinner?