Actress and Musician
Samkelo Ndlovu
seems to have finally responded to the allegations that he owe a DJ 12 000.
Also Read:
DJ Puts Samkelo Ndlovu On Blast For Owing 12K

Samkelo
has been on her
Instagram stories
doing what we believe is her telling Lesedi, the dj that alleges that Samkelo owes him money, to go jump, not literally.
These were the posts on her stories that most people aren't taking kindly to:
Lesedi on the other hand has proven that he is not one to take such things lying down.
He took to Twitter to share that Samkelo actually thinks she is smart.
Yesterday Lesedi revealed that he has taken Samkelo to the small claims court solidifying that he is not one to be messed with.
Lesedi has also let us know that he now knows that Samkelo paid everyone that was on the line up except him.
These were some of the reactions:
"@SamkeloNdlovu will learn how things really work in the real world..."null and void" my ass, she needs to be taught a lesson she'll never forget. Her attitude stinks"

"As much as it is wise going the legal way but you wont get your money bro not with small claims court, the process will cost you rather than help you get your money"
"This is so sad, black on black, then the next thing motho wa makala when things don't go their way all because someone "o tshwere ka pelo" held you by their Red heart, may she be kind enough to pay him atleast"
"Samkelo beefs with everybody, she thinks she the best in SA she also fought with Moozlie, many others I dislike her too
#SamkeloPayBackTheMoney
these fake celebs get away with a lot and use many cos they fought for by fans,
"She was never planning on paying you. Now she's using social media posting as an excuse, even using the word "defaming" wrongly when you presented events as they occurred #SamkeloPayBackTheMoney #SamkeloPayBackTheMoney"

When Samkelo saw the screenshots and that she had been put on blast, sis went berserk and told Lesedi that their agreement is null and void.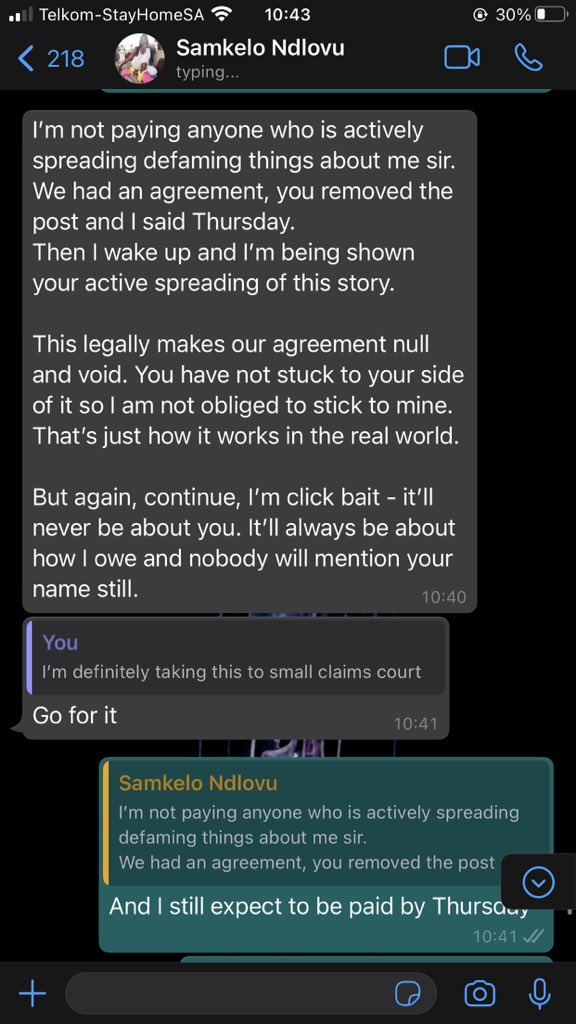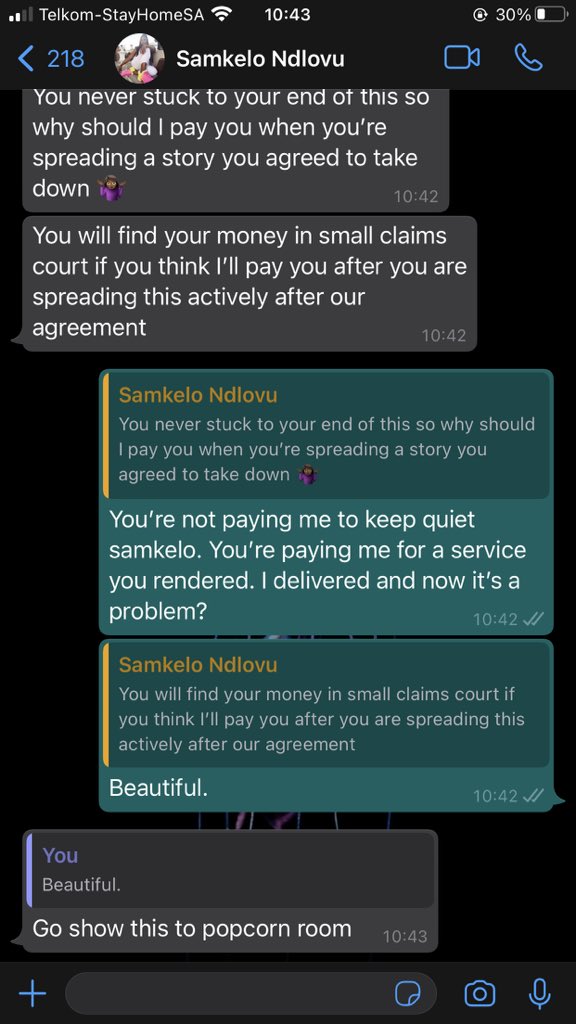 A month ago, Samkelo revealed that she had started an organisation.
Samú
took to
Instagram
to announce that she has started a
Non Profit Organisation
(NPO),
The Samkelo Ndlovu Foundation
in efforts lessen the effects of social injustices that affect the women and children of
South Africa
. .
She said,
"Friends, in my long overdue pursuit of philanthropy I have begun a registered non-profit organization in response to Covid-19 and the effects that the lockdown restrictions have on women and children as well as leaders of child headed homes who's parents are diseased by Covid-19 or anything else""Please help us by following our page and DM'ing us any story or person you know of who is the leader of a child headed home or single mother or child in need of assistance. Please include their contact details. We are not looking for donations but for you to help us locate our friends in need of assistance.
What do you guys make of this?
Read Next:
Lady Du Is The Most Educated Artist In Mzansi
Main Image Credit: Instagram/@samkelondlovu