Instagram has been a wonderful location for lonely guys in recent months following some of the, ahem, interesting pictures that have been posted on the social networking site. We saw Rihanna post some rather saucy pics about two months ago while last year Kim Kardashian gave us a peek at her sexy booty as her way of showing off her post-pregnancy bod. Instagram owners haven't been too happy about this and have been slamming celebs (And regular users) left, right, and centre lately for some of the pictures that have been posted on the site. Kim K's butt is still there for the world to see, but Rihanna's account has in fact been DELETED permanently as her latest pics seemed to be a step too far. 
Scout Willis, daughter of Bruce Willis and Demi Moore has decided that Instagram's censorship policies are too strict and up tight. The outspoken star (We actually don't know what she does for a living other than be the daughter of Bruce and Demi!) went on a topless protest this week in an attempt to either completely piss Instagram off (And she did; they deleted her account!) or to force the social network's hand and have them loosen their censorship policies. 
Scout, who is clearly not afraid of anyone, decided to walk around New York City topless before subsequently posting the pictures on Instagram, and yes you curious readers, we have the (censored) picture here!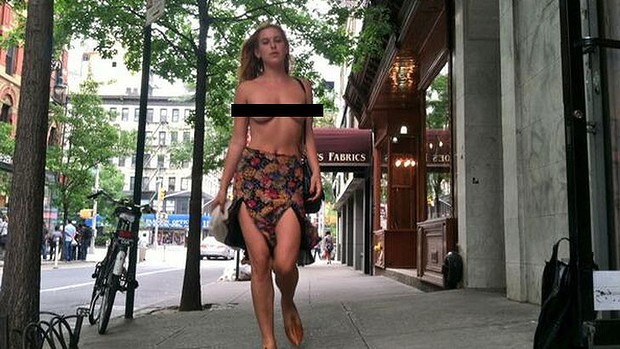 Scout not only shared the picture on Instagram but tweeted it with the hashtag #FreeTheNipple. Rihanna, who is an advocate of nudies (Nude selfies) immediately jumped on the bandwagon and tweeted "FREE THE NIPPLE" 
It's an interesting time for Instagram followers right now as the likes of Scout and Rihanna are attempting to rally troops, we wonder if the Facebook-owned social network is going to make any attempt to change its policies or if they are going to stand firm and continue suspending the accounts of celebrities. 
Personally we are #TeamScout in this particular battle. Everybody loves a bit of skin, especially on a Friday!