Actress and businesswoman Sonia Sedibe is the latest addition to the list of South African celebrities who can proudly show off that they have  A-list American celeb friends.
Just like music producer Anattii and Metro FM radio personality T-bo Touch, who regularly hang or pose with American stars, Sonia knows people in high places too. Oh and hey, she  thought it'd be nice to let us know too!

Left: Anatii & DJ Khaled Right: T-bo Touch and DJ Drama
The former Generations actress took a snapshot of her conversation with actress, Vivica A Fox with the captions "Friends like these". And posted it on social media for all to see.
Must be nice... Sonia texting with Vivica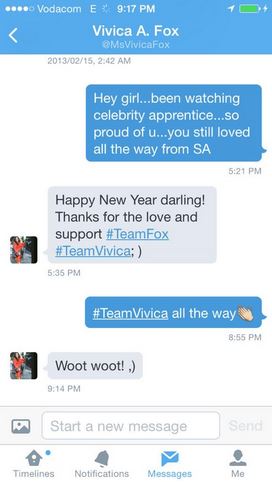 I don't know, maybe it's just me, but this looks like Sonia is reaching a little, to try and keep the conversation going. I don't care if you think I'm hating, but if you're going to post pictures of your text messages on social media, then people are allowed to have an opinion on it. 
While we're here, how do we even know this is Vivica A Fox? I can also send a "text message" to "Ms Beyonce Knowles Carter" and wait for a response. I'd probably post it on social media with a caption saying something like "FRIENDS ARE PATIENT FOR RESPONSES!" 
I doubt Sonia would lie about this, but the attention seeking thirst is high! 
Speaking of Vivica, by the way, apparently she's found herself a Ben 10 in actor Robert Richard. Remember him from Cousin Skeeter and One on One? Yeah, he's 32 now! 
Yep, Vivica has all of this to herself!