South African jazz legend Don Laka has fired shots at Metro FM DJs.
Bra Don, who is the co-founder of Kalawa Jazmee, made headlines this week after putting the spotlight on the crisis in the SA music industry.
Among other things, he claimed that 15,000 jobs were lost in the industry, and he also touched on the fact that Mzansi radio stations are playing more international music than local.
But that's not all. The jazz veteran has now gone after Metro FM personalities DJ Oskido, Christos, Shimza, Naves, and others, in a Facebook post.
The post is no longer available because Laka's Facebook account has apparently been disabled. 
I have been censored by FACEBOOK pic.twitter.com/yAk6saZ0MC

— Donald Laka (@Don_Laka) February 24, 2016
In the post, the jazz musician labelled the DJs as "frauds". 
The post has since gone viral and has had all kinds of reactions from the public. DJ Tira shared it on his Intsagram page, where he made it clear that he doesn't agree with Bra Don.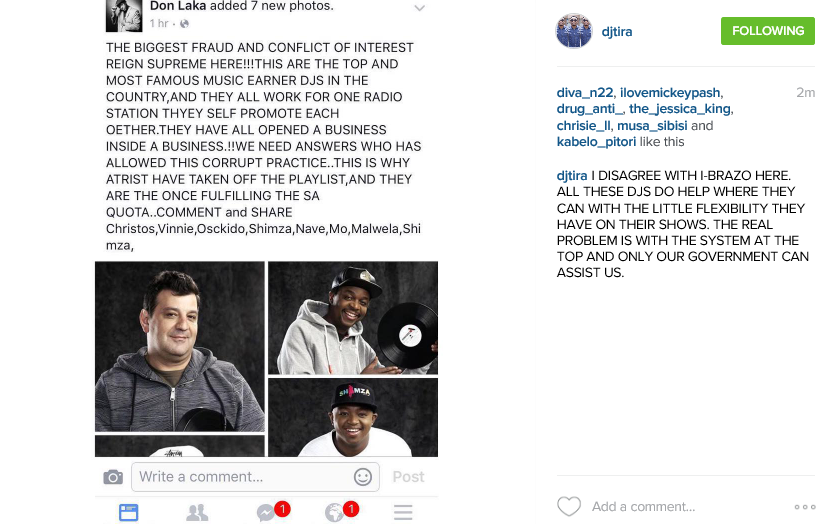 ​
Tira is not the only celebrity to disagree with the musician. DJ Euphonik, Lulo Cafe, and others have also voiced their opinions on the matter.
With Respect. I COMPLETELY disagree with how @Don_Laka is calling people out publicly without ALL the facts. Not how grown folk a should act

— Euphonik™♛ (@euphonik) February 24, 2016
@Don_Laka it's not conflict sir its "Taste Makers" they know what's going on on the ground level better than most & they play A LOT of local

— Euphonik™♛ (@euphonik) February 24, 2016
@Don_Laka Also Sir, "The sons & daughters" (current generation) will suffer for the sins of their "Mothers & Fathers" (Your generation).

— Euphonik™♛ (@euphonik) February 24, 2016
I invite you to come observe our contribution to SA music with these platforms we were afforded sir @Don_Laka

— Cadence Cartel (@LuloCafe) February 24, 2016
@Don_Laka as you have taken the leadership in this battle....we want to feel that it's not directed at one entity or certain individuals

— Cadence Cartel (@LuloCafe) February 24, 2016
@Don_Laka the people you have mentioned, from what I know, have contributed a big deal and have fought the battle for SA music take priority

— Cadence Cartel (@LuloCafe) February 24, 2016
@Don_Laka we have come this far....the quota is getting better...lets not turn on each other when we are close to the finish line

— Cadence Cartel (@LuloCafe) February 24, 2016
Image credit: Instagram