Rapper Emtee
has just won over Mzansi's hearts after his interview with popular podcaster Mac G. The Manando rapper spilled the beans on a number of issues which got him trending all over social media. From his humble beginnings as a kid from Matatiele, to addressing misconceptions around Xhosa initiation schools, to how he made a living selling
weed.
Read more:
Emtee Apologises To His Wife
Controversial podcatser Mac G had to ask 'The King Of Hooks' about the beef between he and
Ambitiouz Entertainment
and how they played a role in him being homeless. At first when Ambitiouz carried the game on their backs with a stellar line up of rappers in their stable,
A-Reece
warned
Emtee
that
they are getting screwed over.

As a family man who comes from a certain background, Emtee steered clear away from the drama and did not want to investigate things further. He told Mac G that he has a family to take care of and pay the bills, so he ignore A-Reece's warnings.
When he signed to the label,
Ambitiouz gifted Emtee with a lavish apartment
but Emtee said at first they took care of the bills, but as time went he started receiving electrical and water bills and he also had to pay rent. He was then asked "what happens if he beefed with these people, would he lose everything?"
Emtee responded by saying,
"That was always at the back of my mind, and every time the answer would be 'yes', they will do that."
After leaving the record label he went very broke. He even revealed his shocking salary he received from the label saying it was just under 20K, whereas they were making around 50K per show he was performing in.
Emtee then had to talk about his wife Nicole Kendall Chimzamy, saying they met through mutual friends during her matric dance. They have two beautiful boys Logan and Avery.
He had accused Nicole of physical abuse
and they exposed each other's dirty files. After weeks of bickering all over social media, Emtee apologised to her and said,
"I'd like to apologise to the mother of my children, my wife Nicole. I hope you find it in your heart to forgive me. I love you Mrs Ndevu."


Read more:
Emtee Releases A Single After His 5th Car Accident
But the rapper did not want to touch on their marital problems which spiraled out of control last month on social media and moved right a long to his infamous video where he showed off his manhood on Instagram. He said he had just come out from performing on a show and was very tired and high off from smoking weed. "
It was a tough time, here I am today.
"
Watch Emtee's heartfelt interview below: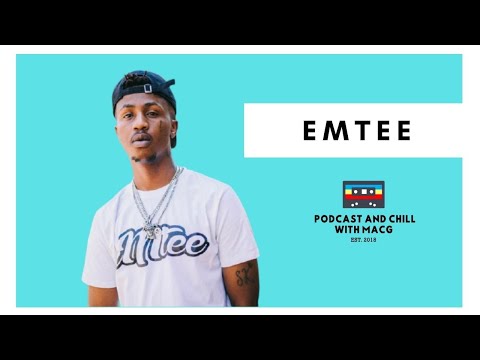 Read next:
You Are Vile And Toxic
Picture credit: Twitter