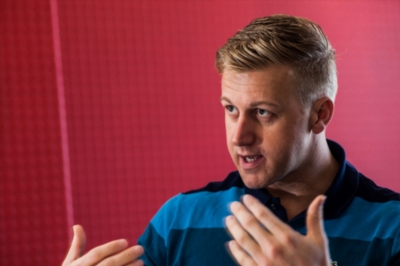 Rumour has it that, even though Gareth Cliff wasn't fired, 5FM was nevertheless glad to see the back of him.
According to Heat magazine, radio station 5FM has for a long time been yearning to get the popular, yet controversial shock jock off their morning airwaves.
The publication quotes a source, who said: "The management at the SABC hasn't been happy with Gareth for a long time. He's so outspoken, and they've been trying to get rid of him for years.
"Management knew, though, that it would be impossible to just let him go. So they offered him a random slot. He was put in a position where he had to go from being the host of a breakfast show to somewhere in between.
"It was management's way of trying to get him to leave - and it worked."
Gareth, however, denies these claims and says he's been planning his departure for a while now.
"Rina [Bloomberg], my publicist, and I have been planning strategically for two years about the most graceful way to exit radio and start doing something else," he said, when approached for comment.
He also explained why his departure came with so little forewarning, saying: "I didn't want to be like all those DJs that warn people one month before that they're leaving and for one month get those calls like, 'Ah, it's so sad that you're leaving. It's so horrible', and then the whole show becomes a big funeral. I wanted to do it in one day and get it done."
However, when contacted for comment by gossip website The Juice, 5FM did admit that they offered Gareth a different slot, but denied that his move would necessarily have been a demotion.
"From the onset we accepted Gareth's decision to explore other opportunities. But we can confirm we made him an offer for a high-profile morning slot," said the station.
Meanwhile, as fans count off the days to the launch of Gareth's new project on 1 May, he recently released a short advert for CliffCentral.
In the humorous video, Gareth describes his new "unscripted.uncensored.unradio" WeChat project as a space where "people can listen, and interact with me".
He has also taken to his Facebook page, where he calls on interested people to join Cliff Central.
Reads the post: "We will be broadcasting live all day with some well-known names hosting regular shows as well as launching aspiring new talent. It could even be you! We're tapping into the vast untapped talent pool in South Africa and giving people a chance to audition live from 1st May at CliffCentral studios (situated in Rivonia, Sandton). You could be the next best thing but no one has given you a chance yet."