According to reports, Tops at Spar has got itself into hot water after they released an advertisement that read: "Grab a drink and show off your PJ Powers". The ad had many people dragging their jaws on the floor, considering that PJ Powers is a recovering alcoholic. The advert left a sour taste in her mouth and had her fuming over the 'below the belt' advert.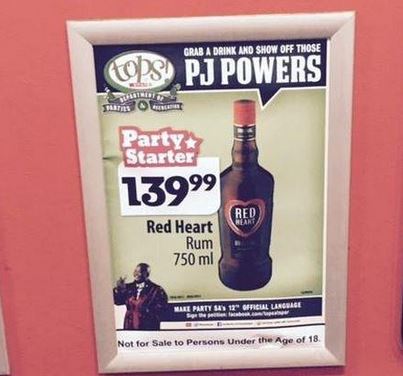 She said through her manager that her name was being tarnished by the retailer and the chain's disregard for her alcoholism was "upsetting".
According to Destiny Man, PJ Powers is seeking for legal advice and her manager has called on the public to take pictures of these ads wherever they see them and to email the images to [email protected], as they are preparing to take legal action against the retail chain.
In their defence, the bottle store chain revealed that the PJ reference was just a play on words to echo the pyjama party the chain store has been running for the month of June.
Well the play on words has backfired and it seems like PJ powers wasn't the only person who was furious at the advert
The ad has sparked a debate not only on social media, but also on many radio stations.
Spar used PJ Powers' alcoholism as a wordplay and it's a problem. See why creatives can't prosper in SA?

— Thato (@Thato_Legend) June 23, 2015
Shocked at @TOPatSPAR using PJ POWERS @PJPowers1 name in ad campaign & then their limp excuse that they didn't do it intentionally? Come on.

— Angel Jones (@angel1jones) June 22, 2015
NO Spar! We won't think of "PYJAMA (PARTY) POWERS" when we unlock our "PJ Powers". Good play on words but PJ is a recovered alcoholic! C'mon

— CURRENT_AFFAIRS_GURU (@ThuleCoupe) June 23, 2015
Whilst other people thought the advert actually works to PJ's advantage. 
I didn't know who PJ Powers was before she got angry at Spar, so if anything this advert is a good thing for her brand.

— Phil (@OffTheRadarPhil) June 23, 2015