Just when we thought
divorce rumours about Somhale
were just hearsay, more shocking revelations have been brought to light. Abuse, infidelity, jealousy, orgy and open marriage claims were all made by the actor and entrepreneur in a recording exclusively revealed by
Sunday World
.
Read more:
Somizi Takes Legal Action
In the voice clips shared by the publication,
Mohale Motaung made shocking revelations about his "abusive" relationship
with media personality
Somizi Mhlongo.
He was asked by the interviewer about
Somizi's
apparent uncomfortableness whenever he worked with certain people in the industry. Mohale made friends in the industry but it was people his husband did not like. "It was mainly about work, the friends that I made which he didn't like," he said, which the interviewer asked him if he was referring to
The Fergusons
, and he answered, "they are part of the list yes."
Read more:
The Fergusons Welcome Mohale
He then added, "There are certain people he wouldn't want me to converse with, maybe if we are at the club. Or maybe people he has a history with or people he does not like."
Mohale said he had an interest with working with The Fergusons
but when Somizi found out about it, Connie Ferguson suddenly stopped talking to him. He also alleged that Somizi's best friend TT Mbha was the one who went to The Fergusons and told them to not give him a job. But the plot twist was that he was not sent by Somizi. This resulted in their split as best friends as Somizi confronted TT about it.
SEE ALSO:
Somizi And TT Mbha Not On Good Terms?

Mohale's then adds there have been many bags he had missed as a result of Somizi's jealousy and controlling ways. This was all because Mohale apparently worked "too hard" and had no time for their relationship.
The 26-year-old wants to create a future for himself and grow in the industry
but Somgaga apparently did not want that for him.
Mohale admitted that he cheated on Somizi and he knew about it but that lead to trust issues. It was a partner he was with before dating Somizi but he never broke things off.
Mohale claimed that the first time he got physically abusive with him was when he disobeyed this wishes of not working with NSFAS in Durban. Mohale had to go after the bag and so he left, however when he came back a furious Somizi allegedly beat him up and broke his ribs. Mohale claims to have almost lost his teeth.
In another supposed physical fight, Somizi allegedly pulled out a knife and almost stabbed them both. "
I took my keys and walked out, he took a knife. I was about to exit, so he said to me, 'if you exit… I'm going to kill us both.' So I took my keys and ran. He grabbed the knife and said 'if you walk out, I'm going to stab you.' Now I see a different person. I was sh*t scared and walked back into the house. He said 'let's talk.' He cried and we moved on,"
he told the publication.
Listen to clips of the interview below:
Following yesterday's published article, Somizi, through his legal team, issued a statement and said they are looking into it. So could he have laid charges against Mohale?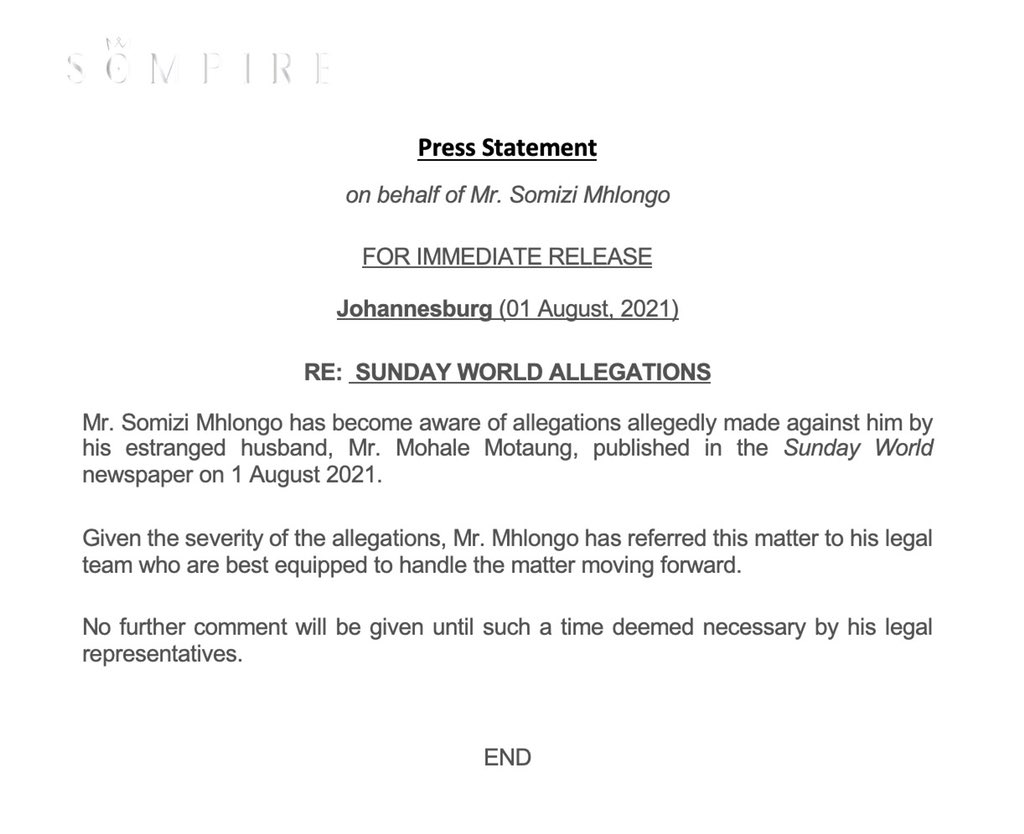 A few days ago, Mohale subbed the media and how they publish false rumours by laughing at a tweet which made such accusations. But these allegations came from the horses mouth.
Read more:
Tweeps Call For Tira's Arrest
Image credit: Instagram