Rich Kids seems to be a hit... on social media at least.
The show, which premiered on Vuzu Amp last night, got a lot of people's attention and they had tons of things to say. The first episode followed the life of Nape, who pretty much gets everything he wants from his parents - including a 60K watch.
He shared a bit of his life with viewers inclunding his relationship with his girlfriend Kim. Cameras followed the adorable couple to a restaurant where they acted all cute and lovey-dovey. You, all the nice relationship stuff that people do.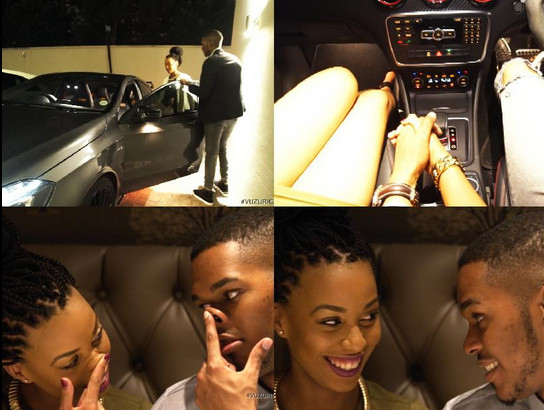 Arent' they just the cutest?
Like I said in the beginning, social media was buzzing last night, with people sharing their opinions on the show. The reacions went from "ncoooh" to "he's not rich, his parents are". Here's what some people had to say:
Nape's mother is "so bae"
The mother is soo bae!!! #VuzuRichKids

— #NdimhleFckedUpTho (@JackDevero) April 16, 2015
Mom looks beautiful. #VuzuRichKids

— Pri (@PriMenoe) April 16, 2015
There was depression and chest pains
@Vuzu.tv #VuzuRichKids nursing a hungover coz of last nite's tweets & woke up with a great depression over that R300 hair cut.

— Mpumelelo Maabane (@MMaabane) April 17, 2015
I will refrain from watching #VuzuRichKids, I don't need to be having chestpains about why I'm poor pic.twitter.com/ps79fEvaxA

— ♥22♥04Finally21✨ (@Neo_QTAT) April 16, 2015
A stamp of approval for his girlfriend
The girlfriend bakithi 🔥🔥🔥🔥🔥 #VuzuRichKids

— Bruno-The-Kid (@Magnificent_RN) April 16, 2015
I'm so proud of him for having a black girlfriend 😊 #VuzuRichKids

— Katleho wa M'Xhosa (@Katli_xx) April 16, 2015
Tjoo. Hw lucky is tht kid tho, flawless. Both parents alive, rich, nice car, hoooot girlfriend, got the looks #jealous #VuzuRichKids

— Pnash101 (@Pnash101) April 16, 2015
Nape ain't rich though, his parents are
Call it jealousy or whatever but those kids didn't work a day in their lives. They are not rich, their parents are #VuzuRichKids

— SayNoTo #XENOPHOBIA (@Lebo_so_fwesh) April 16, 2015
He also doesn't have that "Motsepe money"
Call me when u interview Motsepe's child ... This boy is normal #VuzuRichKids

— IG: TaxiDriverSipho (@TaxiDriverSipho) April 16, 2015
Those are some of the reactions from Twitter. That's a lot from one episode, right? It looks like the show is going to get even better with each episode. I can't wait for the next rich kid's story.