However, it seems that Zodwa might miss trending. Especially considering
the going broke allegations
and that her line of work depends on her being in demand and relevant in order to garner bookings from promoters. As a result, this seems to have inspired Zodwa to revisit her past antics which in the past has seen her actually trending.
Zodwa Wabantu back at promoting penis enlargements


For a couple of months Zodwa Wabantu had kept her Instagram profile private. This could have to do with the media speculating about the state of her relationship or due to the allegations that she was going broke due to the public being bored by her repeated performances.

However, she recently went public again. As such, she recently took to her Instagram and shared a video promoting her long-standing partnership with aesthetic medical practice Herwood Medical Centre. This time she was not promoting vaginal rejuvenation or female-centric cosmetic procedures.


Instead, she was promoting the penis enlargement procedure. In the video, Zodwa is seen talking to the patient and providing comfort ahead of the procedure. However, what surprised many was the fact that also went on to peak a look at the "patient's" alleged small private part.
As such, it was assumed that Zodwa was looking to trend again. This is as this is not the fist time that Zodwa attempted to employ this tactic to see her name in the trends list again. Back in 2020, a similar video by the reality star has garnered attention.


Zodwa Wabantu's latest Instagram post saw her promoting penis enlargement, as she looked directly at the patient's… goods. The media personality has been known for promoting and endorsing various cosmetic and plastic surgeries, but this one seems to have rubbed people the wrong way.

The post shows Zodwa speaking to the patient whilst she looked at his private area, whilst at the Herwood Medical Clinic in Durban, KwaZulu-Natal. She commented on the current size of his genitals and asked if he was happy with the size he ultimately choose, as the doctor measure him with a measuring tape.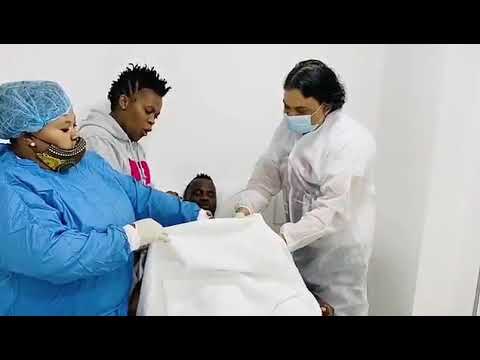 More than the penis enlargement video, Zodwa also created a stir at the time when she went on to share a video promoting the procedure which men can have at Herwood Medical Centre to curb premature ejaculation. The video went viral as Zodwa went further than just looking.


In the since-deleted video, Zodwa was seen simulating intercourse with the patient in an attempt to explain exactly what the procedure would be helping with.